Maximum City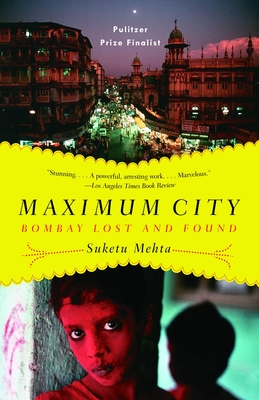 Maximum City
Bombay Lost and Found
Vintage Books USA, Paperback, 9780375703409, 542pp.
Publication Date: September 27, 2005
* Individual store prices may vary.
Buy Now
or
Shop Local
Enter your zip code below to purchase from an indie close to you.
Description
A native of Bombay, Suketu Mehta gives us an insider's view of this stunning metropolis. He approaches the city from unexpected angles, taking us into the criminal underworld of rival Muslim and Hindu gangs; following the life of a bar dancer raised amid poverty and abuse; opening the door into the inner sanctums of Bollywood; and delving into the stories of the countless villagers who come in search of a better life and end up living on the sidewalks.
About the Author
Suketu Mehta is a fiction writer and journalist based in New York. He has won the Whiting Writers Award, the O. Henry Prize, and a New York Foundation for the Arts Fellowship for his fiction. Mehta&#8217;s other work has been published in the<i> New York Times</i> <i>Magazine</i>, <i>Granta</i>, <i>Harper&#8217;s</i> magazine, <i>Time</i>, <i>Cond&#233; Nast Traveler</i>, and <i>The Village Voice</i>, and has been featured on National Public Radio&#8217;s <i>All Things Considered</i>. Mehta also cowrote <i>Mission Kashmir</i>, a Bollywood movie.<br><br><br><i>From the Hardcover edition.</i>
Praise For Maximum City…
"Stunning. . . . A powerful, arresting work. . . . Marvelous." –Los Angeles Times Book Review

"Narrative reporting at its finest, probably the best work of nonfiction to come out of India in recent years. . . . Mehta succeeds so brilliantly in taking the pulse of this riotous urban jungle." –The New York Times Book Review

As each individual story unfolds, Mehta also recounts his own efforts to make a home in Bombay after more than twenty years abroad. Candid, impassioned, funny, and heartrending, Maximum City is a revelation of an ancient and ever-changing world.

"What Dickens did for London, what Joseph Mitchell did for New York City, Suketu Mehta has done for Bombay. . . . A candid, extensive, and wholly entertaining portrait." –San Diego Union-Tribune

"The ultimate insider's view of Bombay, a roiling and vigorous account that delivers on a seemingly impossible challenge: how to limn the diversity and sprawl of such a place in a single book." –The Seattle Times