Family Matters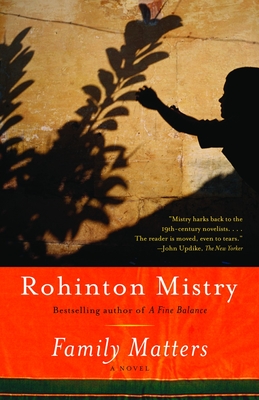 Family Matters
Vintage, Paperback, 9780375703423, 448pp.
Publication Date: November 18, 2003
* Individual store prices may vary.
Buy at Local Store
Enter your zip code below to purchase from an indie close to you.
or
Buy Here
Description
Rohinton Mistry's enthralling novel is at once a domestic drama and an intently observed portrait of present-day Bombay in all its vitality and corruption. At the age of seventy-nine, Nariman Vakeel, already suffering from Parkinson's disease, breaks an ankle and finds himself wholly dependent on his family. His step-children, Coomy and Jal, have a spacious apartment (in the inaptly named Chateau Felicity), but are too squeamish and resentful to tend to his physical needs.
Nariman must now turn to his younger daughter, Roxana, her husband, Yezad, and their two sons, who share a small, crowded home. Their decision will test not only their material resources but, in surprising ways, all their tolerance, compassion, integrity, and faith. Sweeping and intimate, tragic and mirthful, Family Matters is a work of enormous emotional power.
About the Author
Rohinton Mistry is the author of a collection of short stories, "Tales from Firozsha Baag "(1987), and three internationally acclaimed novels, "Such a Long Journey" (1991), "A Fine Balance" (1995), and "Family Matters" (2002). His fiction has won many prestigious international awards, including The Giller Prize, the Commonwealth Writers Prize for Best Book, the Governor General's Award, the Canada-Australia Literary Prize, the Los Angeles Times Book Prize for Fiction, The Royal Society of Literature's Winifred Holtby Award, and the Kiriyama Pacific Rim Book Prize for Fiction. "A Fine Balance" was also an Oprah's Book Club(R) selection.
Born in Bombay in 1952, Rohinton Mistry came to Canada in 1975.
Praise For Family Matters…
"Mistry harks back to the 19th-century novelists. . . . The reader is moved, even to tears." – John Updike, The New Yorker

"[Mistry] needs no infusion of magical realism to vivify the real. The real world, through his eyes, is magical." – The New York Times

"Mistry . . . solidifies his standing as one of the world's finest authors . . . Come to [this book] with the anticipation or foreboding you'd bring to a letter from home. You'll be rewarded luxuriously." – The Seattle Times

"Mistry [is] a giant of a writer. . . . [an] almost perfect example of the storyteller's art." – Chicago Tribune

"Mistry writes with a patient attention to language, structure, and detail reminiscent of. . . .Tolstoy and Tagore… His greatest strength lies in depicting the human heart, in all its longing and imperfection, with unsentimental tenderness." –San Francisco Chronicle

"Worthy of the 19th-century masters." –Time

"Subtle and true . . . His evocation of the streets and sounds of jostling Bombay is almost painfully alive." –New York Review of Books

"Rohinton Mistry is not a household name, but it should be. . . . he ought to be considered simply one of the best writers, Indian or otherwise, now alive. . . . Major writers differ from minor ones. . . in their ability to handle the big questions: death, family, the passing of time, the inevitability of loss, God or the corresponding God-shaped hole. Mistry handles all of them in an accomplished style entirely his own." –The Atlantic

"Mistry's prose is expansive, generous to its characters and ample in story. . . . Frequently clear-eyed, courageous and deeply entertaining."–The Oregonian

"As much a tribute to the spirit of Bombay as it is a portrait of domestic life in modern India. . . . Mistry's quiet sense of humor enlivens the story and makes it a delight to follow." –Baltimore Sun

"Imagine a 19th-century realist sensibility probing the abiding mysteries of India in our time. Leo Tolstoy meets R. K. Narayan. . . . Mistry's compassion for [his] people is boundless." –Newsday

"A wonderfully perceptive and sometimes hilarious exploration of the complexities of family life. . . . A novel of great wisdom, beauty and power–a book to be treasured."–Buffalo News

"Almost Tolstoyan in registry and range . . . To say Mistry captures the textures of India well and creates larger-than-life characters is to note the least of his achievements." –The Observer (London)

"As compelling and rich as either of Mistry's other novels . . . the world in a two-room flat. . . . Mistry depicts the sort of family love that grounds us in the world." –Globe & Mail

"Stealthily, even movingly, Mistry reveals small triumphs of humanity over distaste, minute shifts that signal leaps of compassion." –The Guardian (UK)

"Mistry has created a meticulously evoked, deliberately paced portrait of decay and ruin. . . . It is not a pretty picture, but Mistry makes it warmhearted and stirring all the same." –Time Out New York