You're an Animal, Viskovitz!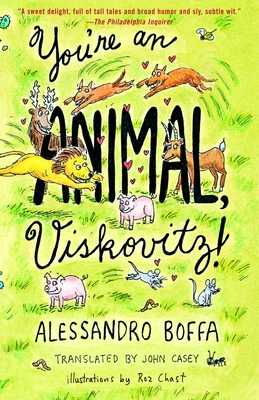 You're an Animal, Viskovitz!
Vintage Books USA, Paperback, 9780375704833, 176pp.
Publication Date: June 10, 2003
* Individual store prices may vary.
Buy at Local Store
Enter your zip code below to purchase from an indie close to you.
or
Not Currently Available for Direct Purchase
Description
In this wickedly hilarious collection of fables, Alessandro Boffa introduces us to Viskovitz and his never-ending search for his true love, Ljuba. As he changes from a lovelorn lion to a jealous finch, from a confused dung beetle to an enlightened police dog, Viskovitz embraces his metamorphoses with wry humor and an oftentimes painful sense of self.
As an ant, Viskovitz fights his way to the top where his egotism calls on the colony to create a monument to his greatness out of a piece of bread. As a sponge, he is horrified by the inbreeding in his family---I'm my own mother-in-law ---and yearns for a change in current so he can mate with Ljuba, who lies downstream. As a mantis, he asks his mother what his father was like, only to hear, -Crunchy. A bit salty. High in fiber.- Unfortunately, when he meets Ljuba shortly thereafter, he follows his father's fate. And as a scorpion, his uncontrollably deadly efficiency meets its match in Ljuba and finds -no way to escape this intolerable, sinister happiness.-
About the Author
Alessandro Boffa was born in Moscow. He completed his studies in biology in Rome, and now divides his time between Italy and Thailand. This is his first book.
Praise For You're an Animal, Viskovitz!…
"A sweet delight, full of tall tales and broad humor and sly, subtle wit."—The Philadelphia Inquirer

"With any luck, Alessandro Boffa's deliriously funny riff on Aesop will be the delicious bonbon that gets gobbled up in an hour of bliss and then passed around."—New York Magazine

"Boffa takes us on a comic romp through the anthills, cages, sewers and dens of the animal world producing a hilarious portrait of Viskovitz and his friends as they experience the pleasures and dangers of an animal life that all too often resemble our own." —Los Angeles Times Book Review

"Funny and entertaining. . . . Never wears out its welcome." —Salon.com

"It's [Boffa's] gift for turning scientific jargon into richly comic material . . . that makes his book such a Wild Kingdom of delight."—The New York Times Book Review

"A cheeky little masterpiece that deserves its own plaque in the pantheon of comic literature." —San Francisco Chronicle

"Charming. . . [Boffa] brilliantly and often hilariously fuses animal biology with human frailty, narcissism, and egotism." —Boston Sunday Globe

"Wickedly funny. . . wildly inventive. . . A terrific debut."—St. Petersburg Times

"Exuberant, extravagant, and hilarious." —The Commercial Appeal

"Wonderfully daffy. . . As witty and entertaining as we've had from Italy since the death of Calvino."—Alan Cheuse, All Things Considered

"An unmitigated delight. . . A literary debut of promise, enchantment, and no small hilarity. It is always fiendishly clever and witty and often uproarious."—Buffalo News

"A scientifically accurate, gleefully sexy, and philosophically mischievous improvisation on Ovid's Metamorphosis."—Booklist