Earth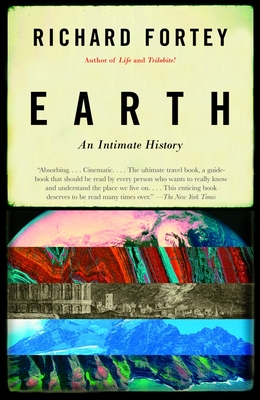 Earth
An Intimate History
Vintage Books USA, Paperback, 9780375706202, 429pp.
Publication Date: November 8, 2005
* Individual store prices may vary.
Buy at Local Store
Enter your zip code below to purchase from an indie close to you.
or
Buy Here
Description
In Earth, the acclaimed author of Trilobite and Life takes us on a grand tour of the earth's physical past, showing how the history of plate tectonics is etched in the landscape around us.

Beginning with Mt. Vesuvius, whose eruption in Roman times helped spark the science of geology, and ending in a lab in the West of England where mathematical models and lab experiments replace direct observation, Richard Fortey tells us what the present says about ancient geologic processes. He shows how plate tectonics came to rule the geophysical landscape and how the evidence is written in the hills and in the stones. And in the process, he takes us on a wonderful journey around the globe to visit some of the most fascinating and intriguing spots on the planet.
About the Author
Richard Fortey is a paleontologist at the Natural History Museum in London. His many books include "Earth: An Intimate History", "The Hidden Landscape: A Journey into the Geological Past", and "Trilobite: Eyewitness to Evolution".
Praise For Earth…
"Absorbing. . . . Cinematic. . . . The ultimate travel book, a guidebook that should be read by every person who wants to really know and understand the place we live on. . . . This enticing book deserves to be read many times over." --The New York Times

 

"Riveting. . . . Wonderfully engaging . . . tackles the biggest rock of all and how its geology has affected the lives of those who inhabit it. . . . In Fortey's hands, geology is a tale of high drama and action." --Chicago Tribune

 

"Crammed with interesting material, vividly and colorfully conveyed. . . . Fortey is a writer with a gift for making natural history come alive. . . . A delightful book to dip into, a treasure-house of mind-expanding lore." --Los Angeles Times

 

"Spectacular. . . . A tour de force. . . . For the science it covers, the human stories and the leisurely style in which it conveys vast amounts of information, Earth deserves to be a bestseller." --New Scientist

 

"Enthralling. . . . Fortey's writing is lovely. There's poetry in [his] words. . . . His gift for description is both intellectual and imaginative." --The Village Voice

 

"A whopping read even if you are scientifically and geologically impaired." --The New York Post

 

"[Fortey] takes the reader on a journey around the world including Mount Vesuvius, the Alps, Newfoundland, Los Angeles and the Deccan Traps in India. He is an eloquent guide."

--Scientific American

 

"Engaging. . . . With a naturalist's view of the land and a geologist's understanding of gradual change, Fortey does an admirable job of bringing the field to life." --Science News

 

"A dazzling voyage of discovery showing how our ancient, battered planet endlessly recycles itself." --The Sunday Times

 

"Fortey illuminates the world we know, and enriches our understanding of its past and future. Enjoy this remarkable book." --Financial Times

 

"Dazzling . . . Important and timely. We now look at the world in a different way, and Fortey provides a tour of the high ground and the hot spots. This book could be classed as history, or as science, or science history, or even travel. Forget all categories: it is simply a splendid book." --The Guardian

 

"A winning combination of bouncy prose and authoritative science has made Richard Fortey's previous natural history books best sellers. His latest offering deserves the same success." --Literary Review

 

"Richard Fortey is the Raymond Chandler of science writing. His prose is angelic, his phrases well-turned. . . . And though Earth is no murder story, it is a mystery book and, in its own way, a thriller." --The Economist