Half a Life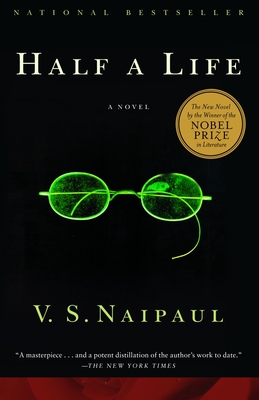 Half a Life
Vintage, Paperback, 9780375707285, 224pp.
Publication Date: October 8, 2002
* Individual store prices may vary.
Buy at Local Store
Enter your zip code below to purchase from an indie close to you.
or
Buy Here
Description
In a narrative that moves with dreamlike swiftness from India to England to Africa, Nobel Laureate V. S. Naipaul has produced his finest novel to date, a bleakly resonant study of the fraudulent bargains that make up an identity.

The son of a Brahmin ascetic and his lower-caste wife, Willie Chandran grows up sensing the hollowness at the core of his father's self-denial and vowing to live more authentically. That search takes him to the immigrant and literary bohemias of 1950s London, to a facile and unsatisfying career as a writer, and at last to a decaying Portugese colony in East Africa, where he finds a happiness he will then be compelled to betray. Brilliantly orchestrated, at once elegiac and devastating in its portraits of colonial grandeur and pretension, Half a Life represents the pinnacle of Naipaul's career.
About the Author
V.S Naipaul (1932), laureat du Booker Prize en 1971 et du prix Nobel de litterature en 2001, est notamment l auteur de romans, "Le Masseur mystique" (Grasset, 2010), "L Enigme de l arrivee" (Grasset, Les Cahiers Rouges, 2012), de recits de voyage, "Le Masque de l Afrique" (Grasset, 2011), d essais, "Crepuscule sur l Islam", et d une correspondance, "Entre pere et fils" (Grasset, 2012).
Praise For Half a Life…
"A masterpiece of implicitness . . . explicitly concerned with drawing out the metaphysical-private while keeping it embedded in society and history . . . The ironies in Half a Life wind like a fugue into infinity . . . Identity is an enigma . . . To make that sentiment breathe in the mouth of a living character, and then rise from the page with silent laughter, is a beautiful completion: the mark of a genius and a cause of unending delight." — Lee Siegel, Los Angeles Times Book Review

"As disquieting as anything [Naipaul] has ever written . . . His terse prose works, as always, to imply a world in a phrase." — Michael Gorra, New York Times Book Review

"A troubling novel, genuinely moving . . . disturbing in all the right ways . . . the scenes of social encounters are brilliant, set against the twilight of colonial rule . . . A stunning book, three continents, three journeys, the evergreen themes of caste and class, of growing up." — Betsy Willeford, Miami Herald

"Naipaul's style is so frank it seems intimate, and the awful characters are studied and well crafted. Behind the matter-of-fact style is a cuttingly ironic view of human relations . . . When Naipaul talks, we listen." — Diane Mehta, The Atlantic Monthly

"Naipaul is a master of English prose, and the prose of Half a Life is as clean and cold as a knife." — J. M. Coetzee, New York Review of Books

"'Half a Life,' the fierce new novel by V. S. Naipaul, the new Nobel laureate, is one of those rare books that stands as both a small masterpiece in its own right and as a potent distillation of the author's work to date . . . It deftly combines Dickensian delight in character with political and social observation . . . while recounting with uncommon elegance and acerbity the coming of age of its hero, Willie Chandran ... Mr. Naipaul endows his story with the heightened power of a fable. With 'Half a Life' he has given us a powerful tale of one man's journey from childhood to middle age while at the same time creating a resonant parable about the convulsions of modern history, both the dying of old inequities and the rise of new illusions, and their spiritual legacy of homelessness and dislocation." — Michiko Kakutani, New York Times

"As sly and funny as anything Naipaul has written . . . He is still mining his richest obsessions . . . The classic that his new novel calls to mind is Voltaire's Candide. There is the same mocking simplicity of style, the same heartless elegance of design . . . Nobody who enjoys seeing English beautifully controlled should miss this novel." — John Carey, Sunday Times

"A surprise and a pleasure . . . here, at last, is a work of pure imagination, though the themes are characteristic in their complex peculiarity . . . Naipaul has produced the most complex and demanding body of work of any post-war British writer . . . In sentences of great precision and balance, Naipaul reanimates the dilemmas of the late and post-colonial experience . . . He reminds us again of what a fine and unusual writer he is . . . In the canon of contemporary British writing he is without peer: a cold, clear-eyed prophet, a scourge of sentimentality, irrationalism and lazy left-liberal prejudices. Read him." — Jason Cowley, The Observer Review

"Naipaul writes a prose as clean as a stripped wand, but however plain the language, the ideas it delivers are not. . . . He is still peerless as a deviser of the shocking icon. He builds a scene of metaphysical loss as compelling as any Renaissance canvas of the expulsion from paradise." — Paula Burnett, The Independent

"No writer has written more tellingly about the vocation of writing than V. S. Naipaul. . . . this new novel, Half a Life, shows us that Naipaul's absorption in how he came to be a writer is still fresh. . . . The pages about London glow, and bear comparison with anything that Naipaul has done . . . Almost casually, but beautifully, achieved . . . Captures in miniature the exceptional trajectory of Naipaul's oeuvre-the figure of the father, the life of the writer, and, finally, an enquiry into the origins of the colonial landscape itself." — Amit Chaudhuri, Times Literary Supplement

"The foremost literary interpreter of the third world for a British and American readership." — Maya Jaggi, The Guardian

"Genuinely powerful in a deeply politically incorrect way." — Jonathan Bate, Daily Telegraph

"Fresh . . . A novel with a purpose . . . Through the evocation of three continents and several decades, without calling on public events and purely through the narrative of a life, V. S. Naipaul gives us a moral tale which captures the evanescence of our times." — Farrukh Dhondy, Literary Review

"Read it for its beautifully controlled English." — The Sunday Times

"One of the world's greatest living novelists . . . A writer whose world-view has been characterised by rigorous inquiry . . . A fascinating study . . . Naipaul has thankfully lost none of his grace, style, or storytelling power in this beautiful novel." — Stuart Price, Independent

"Like a series of musical variations, the novel that follows [the first lines] never departs from them in essence . . . This is brilliant, affecting stuff: the novel's melancholy drama is played out on the furthest margins of fiction, where things are recollected rather than observed." — Rachel Cusk, Evening Standard

"Naipaul's first novel in six years is another installment in the extended fictional autobiography. . . . [This novel] may tell us more about the essential Naipaul than he has ever heretofore revealed. . . . The work of a master who has rarely, if ever, written better." — Kirkus Reviews (starred review)