Parting the Desert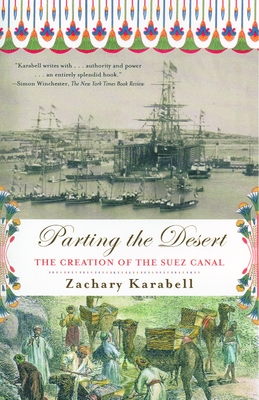 Parting the Desert
The Creation of the Suez Canal
Vintage, Paperback, 9780375708121, 320pp.
Publication Date: May 11, 2004
* Individual store prices may vary.
Buy at Local Store
Enter your zip code below to purchase from an indie close to you.
or
Not Currently Available for Direct Purchase
Description
Award-winning historian Zachary Karabell tells the epic story of the greatest engineering feat of the nineteenth century--the building of the Suez Canal-- and shows how it changed the world.

The dream was a waterway that would unite the East and the West, and the ambitious, energetic French diplomat and entrepreneur Ferdinand de Lesseps was the mastermind behind the project. Lesseps saw the project through fifteen years of financial challenges, technical obstacles, and political intrigues. He convinced ordinary French citizens to invest their money, and he won the backing of Napoleon III and of Egypt's prince Muhammad Said. But the triumph was far from perfect: the construction relied heavily on forced labor and technical and diplomatic obstacles constantly threatened completion. The inauguration in 1869 captured the imagination of the world. The Suez Canal was heralded as a symbol of progress that would unite nations, but its legacy is mixed. Parting the Desert is both a transporting narrative and a meditation on the origins of the modern Middle East.
About the Author
Zachary Karabell is an author, money manager, commentator, and president of River Twice Research, where he analyzes economic and political trends. Educated at Columbia, Oxford, and Harvard, where he received his PhD, Karabell has written eleven previous books. He is a regular commentator on CNBC, MSNBC, and CNN. He writes the weekly Edgy Optimist column for "Reuters "and "The Atlantic", and is a contributor to such publications as "The Daily Beast", "Time", "The Wall Street Journal", "The New Republic", "The New York Times", and "Foreign Affairs."
Praise For Parting the Desert…
"Karabell writes with the authority and power of a gifted arabist…an entirely splendid book." --Simon Winchester, The New York Times Book Review

"Karabell tells the story of a crucial development in the history of the modern world with economy and lively grace." --Los Angeles Times

"Zachary Karabell reminds us in this concise and pleasantly digressive history [that] the waterway's creation stirred great passions in the 19th century."–The Economist

"Read Karabell's wonderfully written book to remember the dreams people had about the Middle East–and what became of them."– Newsweek

"A fascinating saga: of diplomacy involving primarily the French and the Egyptians, of raising gigantic sums of money, of overcoming massive geographical and technological obstacles long before the invention of mechanized earth-moving equipment. . . . The business aspects sometimes seem as if they are ripped from last month's headlines." —Milwaukee Journal-Sentinel

"A rich and engaging narrative of one of the greatest engineering feats of the nineteenth century [with] resonance beyond its time." —Alexander Stille, author of The Future of the Past

"An absorbing, well-written narrative. . . . [Karabell gives] dimension to the personalities, eccentricities and strengths of key figures. . . . [A] fascinating account." —San Antonio Express-News

"Karabell tells his story elegantly . . . distilling a large cast spread across several countries into a manageable one. . . . A gifted crafter of sentences, Karabell seldom wastes a sentence as he offers one well-chosen anecdote after another that sheds light on the greater drama of this important and historic construction project." —Charleston Gazette

"A fascinating, epic, elegiac story. Zachary Karabell's account of the political intrigue, quixotic dreamers, and engineering genius that led to the construction of the Suez Canal vividly brings to life one of the underappreciated marvels of the modern world. The book is a triumph of history and art." —Bruce Feiler, author of Abraham: A Journey to the Heart of Three Faiths

"A tale shot through with . . . unexpected twists. . . . Karabell tells his story concisely and with narrative skill, peppering the account with many wry anecdotes." —The Jerusalem Post

"Engrossing. . . . As accessible and vividly written as a novel. . . . It maintains a page-turning pace. Superbly researched, it is a volume to keep." —The Sunday Times

"Zachary Karabell has written an absorbing narrative. . . . [He] traces with skill the complex diplomatic and engineering feat. . . . [and] prompts reflections . . . about the futility of human effort and the evanescence of glory." —Times Literary Supplement

"Excellent and well-written. . . . A riveting story, and Karabell tells it handsomely. . . . An exceptional book, one of the best of its kind I have read. . . . A splendid account of a great project." —Sunday Herald

"Well-researched and very well-written . . . The tens of thousands of the Egyptian fellahin peasantry who dug the canal . . . did indeed part the desert, and their story cannot have been better told than by this fine book." —The Sunday Telegraph (London)

"Fascinating. . . . Elegiac. . . . Parting the Desert is an excellent story, skillfully told. Even those who are bored to tears by canals, whose eyes glaze over at the first mention of engineering, will find themselves, as this reader did, racing through it." —Justin Marozzi, Literary Review