Elizabeth and Mary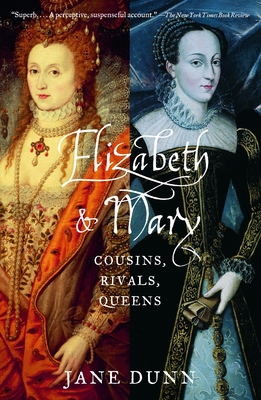 Elizabeth and Mary
Cousins, Rivals, Queens
Vintage, Paperback, 9780375708206, 480pp.
Publication Date: January 25, 2005
* Individual store prices may vary.
Buy at Local Store
Enter your zip code below to purchase from an indie close to you.
or
Buy Here
Description
The political and religious conflicts between Queen Elizabeth I and the doomed Mary, Queen of Scots, have for centuries captured our imagination and inspired memorable dramas played out on stage, screen, and in opera. But few books have brought to life more vividly than Jane Dunn's Elizabeth and Mary the exquisite texture of two women's rivalry, spurred on by the ambitions and machinations of the forceful men who surrounded them. The drama has terrific resonance even now as women continue to struggle in their bid for executive power.

Against the backdrop of sixteenth-century England, Scotland, and France, Dunn paints portraits of a pair of protagonists whose formidable strengths were placed in relentless opposition. Protestant Elizabeth, the bastard daughter of Anne Boleyn, whose legitimacy had to be vouchsafed by legal means, glowed with executive ability and a visionary energy as bright as her red hair. Mary, the Catholic successor whom England's rivals wished to see on the throne, was charming, feminine, and deeply persuasive. That two such women, queens in their own right, should have been contemporaries and neighbours sets in motion a joint biography of rare spark and page-turning power.
About the Author
Jane Dunn is the author of a number of historical books, including Elizabeth and Mary: Cousins, Rivals, Queens.
Praise For Elizabeth and Mary…
"A perceptive, suspenseful account of complex English history. . . . By the end of this satisfying book, one feels sympathy for both women, brave queens in an age when 'no one considered that a woman could effectively rule alone.' " —The New York Times Book Review

"Elegant. . . . Dunn demythologizes Elizabeth and Mary. In humanizing their dynamic and shifting relationship, Dunn describes it as fueled by both rivalry and their natural solidarity as women in an overwhlemingly masculine world." --Boston Herald

"A balanced, nuanced, and eminently clear account. . . . Brilliantly conceived, elegantly executed, and compellingly readable." --Richmond Times-Dispatch

"A wholly engrossing and sumptuous retelling of a tale that entered legend even before its protagonists were dead." --Newsday