A Gate at the Stairs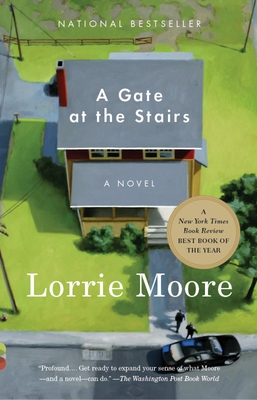 A Gate at the Stairs
Vintage Books USA, Paperback, 9780375708466, 321pp.
Publication Date: August 24, 2010
* Individual store prices may vary.
Buy at Local Store
Enter your zip code below to purchase from an indie close to you.
or
Buy Here
Description
Finalist for the PEN/Faulkner Award
Finalist for the Orange Prize for Fiction
Chosen as a Best Book of the Year by The New York Times Book Review, The Washington Post, Chicago Tribune, The Christian Science Monitor, Kansas City Star, Financial Times, St. Louis Post-Dispatch, and Real Simple

Twenty-year-old Tassie Keltjin, the daughter of a gentleman farmer, has come to a university town as a student. When she takes a job as a part-time nanny for a mysterious and glamorous family, she finds herself drawn deeper into their world and forever changed. Told through the eyes of this memorable narrator, A Gate at the Stairs is a piercing novel of race, class, love, and war in America.
About the Author
Lorrie Moore is the author of the story collections "Birds of America," "Like Life," and "Self-Help" and the novels "Who Will Run the Frog Hospital"? and "Anagrams." Her work has won honors from the Lannan Foundation and the American Academy of Arts and Letters, as well as the Irish Times International Prize for Fiction, the Rea Award for the Short Story, and the PEN/Malamud Award. She is a professor of English at the University of Wisconsin in Madison.
Praise For A Gate at the Stairs…
"Profound. . . . Get ready to expand your sense of what [Moore]—and a novel—can do." —The Washington Post Book World

"An indelible portrait of a young woman coming of age in the Midwest in the year after 9/11…. Moore has written her most powerful book yet." —The New York Times

"A miracle of lyric force, beautiful and beautifully constructed, with a comic touch that transforms itself to a kind of harrowing precision." —O, The Oprah Magazine
 
"A Gate at the Stairs has the power to make you laugh and cry, sometimes almost simultaneously." —The Miami Herald
 
"Lorrie Moore's writing is everything that life is, funny and heart-breaking—and rich." —The Denver Post
 
"Moore may be, exactly, the most irresistible contemporary Ameri­can writer: brainy, humane, unpretentious and warm." —The New York Times Book Review

"Fifty years from now, it may well turn out that the work of very few American writers has as much to say about what it means to be alive in our time as that of Lorrie Moore." —Harper's Magazine
 
"Moore tells a deeply troubling story about race and class and gender in post-9/11 America. And she does it with characteristic wit and intelligence, without letting a soul off the hook. . . . Dazzling." —The Oregonian
 
"This novel explores, with enormous emotional precision, the limitations and insufficiencies of love, and the loneliness that haunts even the most doting of families. . . . Moore gives us stark, melancholy glimpses into her characters' hearts." —The New York Times
 
"Spectacular. . . . Gate is a gift." —The Philadelphia Inquirer
 
"Moore . . . has created a delightful protagonist and narrator—funny, mouthy, good-hearted and deliciously awkward. . . . What rings true over and over is Tassie's—and of course, Moore's—choice of humor as body armor against terrors both new and old." —The Plain Dealer
 
"Lyrical, funny, disturbing, and at times brilliantly insightful. . . . There's not much . . . predictable about this electric-bass-playing, Sylvia-Plath-spouting, motor-scooter-driving, pun-making college kid. . . . Uncommonly rich in pithy observations, startling realizations and zany nuggets of satire." —The Seattle Times
 
"Beautiful. . . . Wonderfully described and worthy of savoring. . . Bright and lovely." —Minneapolis Star-Tribune
 
"Tassie's awakening is nothing short of brilliant. . . . This is not merely a coming-of-age novel, but a world coming to grips with a new, uneasy existence." —Pittsburgh Tribune-Review
 
"The story's apparent modesty and ambling pace are deceptive, a cover for profound reflections on marriage and parenthood, racism and terrorism, and especially the baffling, hilarious, brutal initiation to adult life. . . . Strange and moving." —The Washington Post Book World
 
"A stunning examination of grief—the learning of it, the insidious ways in which it seeps into everything, eating away at people and relationships, lingering until sometimes forgiveness becomes impossible." —Milwaukee Journal-Sentinel
 
 "Moore balances pathos and humor, poetry and puns, often on the seesaw of the same sentence. . . . A Gate at the Stairs is vintage Lorrie Moore." —San Francisco Chronicle
 
"Moore's penetrating and singular voice as a writer is one I could listen to for years and years."—Maureen Corrigan, Fresh Air, NPR
 
"Tassie is achingly real and, thanks to Moore's nimble prose, an unbeatable guide through the thicket of early adulthood." —People
 
"Moore's acute intelligence and sheer love of wordplay make her challenging and interesting to read. She's also funny as hell. A Gate at the Stairs is not a novel anyone will want to put down. . . . This is Greek tragedy cloaked in a coming-of-age cape." —Houston Chronicle
 
"Lorrie Moore inspires fierce loyalty, for good reason. She's the sheriff of a wild and lonely territory, in which empathetic people fight despair with charming words." —Newsday
 
"A fiction writer with as fine a bead on contemporary life and relationships and absurdity as anyone writing today. . . . Startling, painful, funny." —Elle
 
"Moore is by turns ironic and tragic in her portrayal of a woman struggling to find herself in a troubled new century." —More
 
"Incisively funny. . . .Witty and endearing. . . . There are some books that you don't so much want to review as to hand out copies to all your reading friends. This is one of those." —The Christian Science Monitor
 
"Lorrie Moore has a unique gift. She can be screamingly funny—and in the very next paragraph, able to convey terrible grief. . . . Pitch-perfect. . . . Dazzling." —USA Today
 
"In Tassie Keltjin . . . Moore has created an indelible character who leaves the reader with a startling and poignant story." —The Kansas City Star
 
"Brims with the sort of humor and piquant social observations that first brought [Moore] fame as a short-story writer." —The Wall Street Journal
 
"Lovely and amusing." —Time Out New York
 
"On finishing A Gate at the Stairs I turned to the reader nearest to me and made her swear to read it immediately (well, the dog was between us, but she doesn't read much, and none of what I recommend)." —Jonathan Lethem, The New York Times Book Review
 
"A powerful, compassionate novel, both funny and tragic, and always beautifully told." —Newsweek
 
"Readers of contemporary fiction who don't love Lorrie Moore just haven't read her. . . . A rich, expansive and singularly quirky feast." —Salt Lake Tribune
 
"A remarkable meditation of a novel. . . . Moore is a master of the defining detail, and she shines a revealing spotlight on Tassie and the kaleidoscope of characters surrounding her." —The Denver Post
 
"Wise, rueful, luminous, intoxicating. . . . A startlingly moving, gorgeously written book." —Chicago Sun-Times
 
"Lays bare the fissures in American society as one young woman is forced to confront not just the changes in the world around her, but in herself." —New York Post
 
"The crafted dazzle of Moore's writing stands center stage. . . . Lovers of language will find much to enjoy here." —Entertainment Weekly
 
"Tassie's wit and bruisable heart makes this novel refreshingly real." —Good Housekeeping
 
"Breathtaking. . . . You'll want to have some tissues ready—and we're not even getting to half of it. But the saddest part will be when it's over." —Daily Candy
 
"Reverberates with a quiet, lingering power that leaves the reader pondering the randomness of life and death, and the wisdom and futility of love." —Sacramento Book Review
 
"Comic, moving, and ultimately harrowing. . . . Its wonderful, heartbreaking conclusion reminds us that no matter how we suffer, we still can reach a peculiarly human state of grace." —The Miami Herald