A Possible World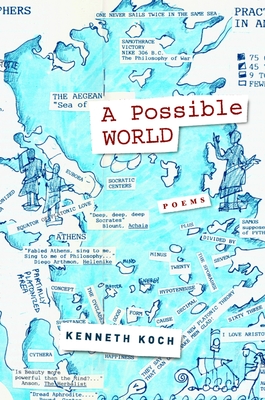 A Possible World
Knopf Publishing Group, Paperback, 9780375710001, 112pp.
Publication Date: March 9, 2004
* Individual store prices may vary.
Buy at Local Store
Enter your zip code below to purchase from an indie close to you.
or
Not Currently Available for Direct Purchase
Description
"For the last thirty years or more, Kenneth Koch has been writing the most exuberant poems in America. In an arena where such good spirits are rare, he has become a national treasure. In his book of personal addresses to what has mattered most in his seventy-plus years on the planet, there is a dimension of pathos and joy rare in the poetry of any era." National Book Award (2000) finalist citation for New Addresses
The three long poems -- Bel Canto, Possible World, and A Memoir -- in this brilliant successor to "New Addresses" are ambitious attempts at rendering the complete story of a life. Taken together they present a dazzling picture of the pleasures and confusions of existence, as well as the pleasures and difficulties of expressing them.
Other poems bring Koch's questioning, lyrical attention to more particular aspects of experience, real and imagined a shipboard meeting, the Moor not taken, or the unknowable realm of mountaintops. As in all of Koch's work, one hears the music of unconquerable exuberance in stormy conflict with whatever resists it death, the injustice of power, the vagaries of life in Thailand, China, or Rome.
Thomas Disch has written in the "Boston Book Review" that Koch is the most capable technician on the American scene, the brightest wit, and the emeritus most likely to persist into the next millennium . . . His work is full of ribaldry and wit, musicianship, pitch-perfect mimicry of the Great Tradition, and the celebration of pleasure for its own sunlit sake.
The ebullience and stylistic variety that one has come to expect of this protean poet is everywhere present in this scintillating collection.
"From the Hardcover edition.
About the Author
Kenneth Koch has published many volumes of poetry, including New Addresses, Straits and One Train. He was awarded the Bollingen Prize for Poetry in 1995, in 1996 he received the Rebekah Johnson Bobbitt National Prize for Poetry awarded by the Library of Congress, and he received the first Phi Beta Kappa Poetry award in November of 2001. His short plays, many of them produced off- and off-off-Broadway, are collected in The Gold Standard: A Book of Plays. He has also written several books about poetry, including Wishes, Lies, and Dreams; Rose, Where Did You Get That Red?; and, most recently, Making Your Own Days: The Pleasures of Reading and Writing Poetry. He taught undergraduates at Columbia University for many years. He died in 2002.