The Rotters' Club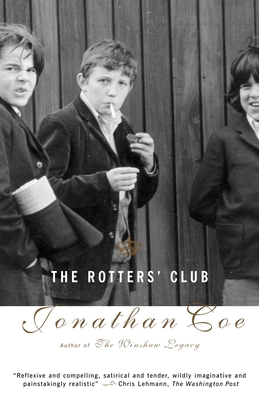 The Rotters' Club
Vintage Books USA, Paperback, 9780375713125, 432pp.
Publication Date: February 4, 2003
* Individual store prices may vary.
Buy at Local Store
Enter your zip code below to purchase from an indie close to you.
or
Not Currently Available for Direct Purchase
Description
Birmingham, England, c. 1973: industrial strikes, bad pop music, corrosive class warfare, adolescent angst, IRA bombings. Four friends: a class clown who stoops very low for a laugh; a confused artist enthralled by guitar rock; an earnest radical with socialist leanings; and a quiet dreamer obsessed with poetry, God, and the prettiest girl in school. As the world appears to self-destruct around them, they hold together to navigate the choppy waters of a decidedly ambiguous decade.
About the Author
Jonathan Coe is the author of The Winshaw Legacy and nine other novels. His many prizes include the Everyman Wodehouse Prize and the SamuelJohnsonPrize.
Praise For The Rotters' Club…
"Reflective and compelling, satirical and tender, wildly imaginative and painstakingly realistic." –Chris Lehmann, The Washington Post Book World

"The gritty, cross-pond equivalent to Look Homeward, Angel. . . . The pangs of embarrassment, the anguish of uncertainty, the awkwardness of success [are] vividly present here." – Mike Francis, The Oregonian

"Funny and astute . . . The strength of The Rotters' Club lies in its comic humanity." – Stephen Amidon, The Atlantic Monthly

"Please, God . . . if there's a next life, let me write as well as Jonathan Coe. The Rotters' Club offers a thick slice of seventies Birmingham–sharp, acerbic, and menacingly true; a sad, funny, thoroughly engaging look at compromise, complicity, and change in a decade many of us would choose to forget." –Anthony Bourdain, author of Kitchen Confidential and A Cook's Tour

"Its tinder-dry combustion of comic, indignant and elegiac suggests an Evelyn Waugh of the left." –Richard Eder, The New York Times Book Review

"A thrillingly traitorous work. It hums along for a hundred pages of wise comedy about teenage love's mortifications, then cold cocks us with an honest surprise as cruel as it is earned." –David Kipen, San Francisco Chronicle

"Jonathan Coe is a mesmerizing writer. . . . The Rotters' Club is a wonderfully gripping novel, by turns funny, heartbreaking and terrifying." –The Seattle Times

"The novel's many intricate parts manage to mesh and turn with the startling harmony you find in Robert Altman's movies." –Todd Pruzan, The Village Voice

"If there's a contemporary novelist who combines sharp and sometimes savage social commentary with the classic, full-blooded pleasures novels are supposed to give readers as well as Jonathan Coe does, I must have missed him." –Charles Taylor, Salon.com

and from the UK . . .

"A must-read for anyone who cares about contemporary literature." –Katie Owen, The Telegraph

"Filled with characters whose destinies we care about, whose welfare moves us. This is the simplest but highest calling of literature." –William Sutcliffe, The Independent on Sunday

"As always with Jonathan Coe, the sheer intelligent good nature that suffuses his work makes it a pleasure to read." –Peter Bradshaw, The Guardian

"As a study of adolescence, it is hard to beat. The aching naivety and intensity of the main characters made me think of Salinger." –John de Falbe, The Spectator

"Coe handles his complex approach to a complex era effortlessly, and the end product is a compulsive and gripping read." –Paul Connolly, The Times

"At once uproariously entertaining and deadly serious–a comedy of manners and mores, but also a conscientious and politically charged reminder of an age quite easily forgotten, yet not far removed from our own." –Henry Hitchings, Times Literary Supplement

"Like all of Coe's novels, The Rotters' Club is brilliant, funny, apposite, informed and unflaggingly truth-seeking." –Rachel Cusk, The Evening Standard

"Superior entertainment. The pages seem to turn themselves." –Hugo Barnacle, The New Statesman