The End of Blackness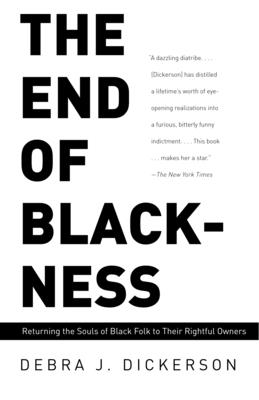 The End of Blackness
Returning the Souls of Black Folk to Their Rightful Owners
Anchor Books, Paperback, 9780375713194, 320pp.
Publication Date: January 4, 2005
* Individual store prices may vary.
Buy at Local Store
Enter your zip code below to purchase from an indie close to you.
or
Not Currently Available for Direct Purchase
Description
Debra Dickerson pulls no punches in this electrifying manifesto. Outspoken journalist and author of the critically acclaimed memoir An American Story, she challenges black Americans to stop obsessing about racism and start focusing on problems they can fix. The way out of the ghetto, she asserts, is to take a good, hard look in the mirror. Get angry, Dickerson says, but use that anger to fuel excellence and civic participation rather than crime or drug addiction. Drawing richly on black history and thought, as well as her own hard-won wisdom, she urges blacks to let go of the past and claim their full freedom. It's only by shaping their own future, she argues, that blacks will finally abolish the myth of white superiority.
About the Author
Debra J. Dickerson was educated at the University of Maryland, St. Mary's University, and Harvard Law School. She has been both a senior editor and a contributing editor at U.S. News & World Report, and her work has also appeared in The New York Times Magazine, The Washington Post, The New Republic, Slate, The Village Voice, and Essence. She lives in Albany, New York.
Praise For The End of Blackness…
: "A dazzling diatribe. . . . [Dickerson] has distilled a lifetime's worth of eye-opening realizations into a furious, bitterly funny indictment. . . . This book . . .makes her a star." —The New York Times

"It's impossible to label Dickerson. The message isn't conservative or neo-con, not radical nor middle of the road but politically provocative. . . . Dickerson's book is a hot poker, aimed at shaking up assumptions on all sides." —Los Angeles Times

"A brave, original, and angry book." —The Boston Globe

"Dickerson offers a bracing polemic. . . . The brutal honesty of The End of Blackness makes it . . . essential." —New York Post

"The headlong momentum of her argument, propelled by anecdotes, quotes, homilies, one-liners and blogs, jumps and hums with a vitality reminiscent of high-end pop music, good chase movies or contact-sports television." —The Nation

"Stimulating. . . . Provocative. . . . Loaded with wish-I'd-said-that one-liners. . . . Dickerson has a way with words and a timely message. . . . When she says it's time for black America to get off its duff, she's not asking anyone to do something she wouldn't do--and hasn't done--herself." --Chicago Tribune

"Blunt and bracing. . . . The End of Blackness is a solidly researched account of the evolution of black identity in America (her 'prologue' is about as concise and direct an account of slavery and its long-standing effects as you are likely to find). . . . Dickerson's is a message for all Americans, not only those who are confused about how to think about race." --Mother Jones

"Fascinating. . . . A call to arms. . . . Dickerson knows how to throw a literary punch." --Pittsburgh Post-Gazette

"[Dickerson is] a thinker who suffers no fools of either the liberal or the conservative stripe. . . . Revive[s] a tradition of clear-eyed, accessible writing about black political destiny in the vein of W.E.B. Du Bois, Carter G. Woodson, and Frederick Douglass." --The Atlantic Monthly

"A brave, original, and angry book. . . . I find much to agree with. . . . We Americans need to get out of the 'race' routine, and black folk must lead the way. . . . The end of blackness . . . is worth striving for." --Glenn C. Loury, The Boston Herald

"Compelling. . . . Exhibits a praiseworthy independence of mind, questioning everyone from the 'Black Politboro'--the civil rights establishment, which sets the tone of black politics--to white apologists who still downplay the ravages of slavery. . . . A stirring endorsement of a new marriage of responsible civic individualism and dedication to the collective good." --The Washington Post

"[An] important and powerful book. . . . With deft, precise and often humorous language, Dickerson takes equal aims at both whites and blacks who would deny the diversity of opinion among blacks and dictate how they should think." --San Antonio Express-News

"Illuminating. . . . Throw[s] the entire damn dictionary of race out the window. . . . Dickerson journeys into interesting, and gutsy, terrain." --The Washington Monthly

"Dickerson has a great deal to offer about the perplexing constraints of race, and in this exhaustive collection of essays on the subject she doesn't merely say it: She rants, raves, vents, exposes, attacks, questions, ponders, pontificates and theorizes. . . . She's dead on." --Ft. Worth Star-Telegram

"[Dickerson] is emerging as one of this country's leading authors on race. . . . The End of Blackness explains how racism laid and continues to maintain the groundwork that makes escape so difficult." --The News & Observer (Raleigh)

"Incendiary. . . . [Dickerson throws] a heavy and sharp-knuckled gauntlet." --Newsday

"Dickerson is . . . courageous, smart and well-informed. She has a wonderfully sharp sense of humor. . . . [The End of Blackness] serves as a fitting tribute to the achievement of Dickerson's heroes, among them Frederick Douglass, Ralph Ellison and especially Carter G. Woodson." --The Washington Times

"Bold and appropriately documented. . . . Dickerson writes with sincere concern for the plight of African-Americans. The End of Blackness is not an attack. It is a plea for blacks to look inward." --St. Petersburg Times