A Brief History of the Flood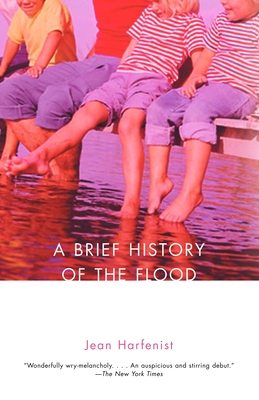 A Brief History of the Flood
Vintage, Paperback, 9780375713354, 224pp.
Publication Date: July 8, 2003
* Individual store prices may vary.
Buy at Local Store
Enter your zip code below to purchase from an indie close to you.
or
Not Currently Available for Direct Purchase
Description
Lillian Anderson is a strong-minded, backwoods-Minnesota girl, well-versed in the basics of survival. She can find air to breathe under a capsized boat, drive in a blizzard, or capture a wild duck. As part of a large struggling family, she tiptoes around her explosive father whose best days always come right after he's poached something and her neurotically optimistic mother whose bursts of vigor bring added chaos. Lillian barrels through adolescence with no illusions about her future, honing her clerical skills while working the nightshift as a salad girl in the airport kitchen. Just as she's on her feet and moving out, their house is literally sinking into the marsh. Stunningly honest, this story explores the fierce love that binds family together.
About the Author
This is Jean Harfenist's first book. It was a Minneapolis Star Tribune Best Book of the Year. Stories excerpted from it won the Prism International Fiction Prize and received special mention for The Pushcart Prize. She was named a finalist for the Katherine Anne Porter Nimrod/Hartman Award, the Kirkwood Literary Prize, the Missouri Review Editor's Prize, and the Indiana Review Fiction Prize. Her short stories have appeared in "The Missouri Review, The Barcelona Review, Quarterly West, Sycamore Review, Crazyhorse, Sonora Review, Wisconsin Review, The Sun, "and the" Cream City Review." She is a native of Minnesota, a graduate of New York University, and now lives in Santa Barbara with her husband.
Praise For A Brief History of the Flood…
"Wonderfully wry-melancholy . . . An auspicious and stirring debut." —Michiko Kakutani, The New York Times

"A granite-tough perspective on a wild and sometimes dangerous childhood. . . . One thinks of the flinty poetry of Mary Karr's The Liars' Club, say, or the cocksure ease of Alexandra Fuller's Don't Let's Go to the Dogs Tonight. Hilariously wrought . . . without a whit of melodrama . . . equal parts humor and steel."—Gail Caldwell, Boston Globe

"Rigorously beautiful without an ounce of dangerous pretension, a book I'll put on my book club's list and keep by the bed for dark nights when I need a language booster shot."—Kaye Gibbons

"We root for Lillian because she's an utterly convincing character, fiercely loyal and loving, [with] that rarest of gifts, a sane heart."—Emily Carter, Minneapolis Star Tribune

"Reading Jean Harfenist's [writing] is like finding a hot slot machine in a casino. One winner after another? In wild defiance of the odds? Who cares. Stay seated."—Richard Russo

"[A] luminous [story] about growing up on a Minnesota lake. Harfenist has spun gold out of the daily lives of the Andersons and their four children in Acorn Lake." –Milwaukee Journal Sentinel

"Few authors [have] the grace and generosity of Harfenist, whose writing is almost dreamlike in its lyricism." –Entertainment Weekly

"Charming. . . . Jean Harfenist shows a sure touch with characterization . . . deft and subtle. . . . [Harfenist's] narration is consistently absorbing and enlivened by flashes of description that are unexpected yet completely in character." –Washington Post

"Harfenist's integrated themes and evocative prose style elevate A Brief History of the Flood . . . giving it the satisfying, rounded feel of a good novel." –San Francisco Chronicle

"Funny and sad and somehow good natured, [A Brief History of the Flood] brings us in to the painful intimacies and troubled hearts of the Anderson family. . . . Jean Harfenist explores the interface between love and dysfunction through young Lillian whose voice will stick with you long after you turn the last page." –Santa Barbara News-Press

"Harfenist has endowed her narrator with an eminent toughness and scathing wit that make being with Lillian the baddest kind of fun." –Chicago Tribune

"Tender, brutal, funny. . . . I doubt there is a person born who could not 'relate to' this book." –Mark Costello, author of Big If

"Wryly funny, unflustered and watchful . . . an impressive debut." –The Arizona Republic

"Jean Harfenist is an excellent writer. . . . [A Brief History of the Flood] is so honest that you could almost swear that it's her memoir." –Florida Sun-Sentinel

"This writer can't put a word wrong." –Pawling News Chronicle