Reunion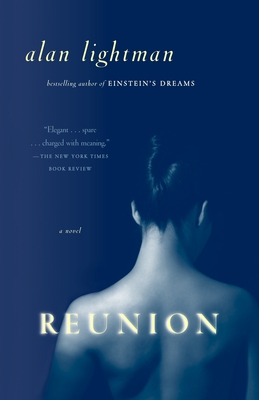 Reunion
Vintage, Paperback, 9780375713446, 240pp.
Publication Date: November 9, 2004
* Individual store prices may vary.
Buy Now
or
Shop Local
Enter your zip code below to purchase from an indie close to you.
Description
Charles, a once-promising poet, is a professor at a minor liberal arts college, admiring of passion but without passion himself. Now living a desperately comfortable existence, he decides to return to his thirtieth college reunion. While there, he relives an intense love affair he had with a beautiful ballerina that forever changed his life.  At times shocked, admiring, and furious with his younger self, Charles remembers contradictory versions of events, until reality and identity dissolve into a haze of illusion.  Reunion explores the pain of self-examination, the clay-like nature of memory, and the fatal power of first love.   
About the Author
Alan Lightman, Ph.D., currently Senior Lecturer in Physics at M.I.T., received the Association of American Publishers Award for the best book in physical science for Origins. His writing appears in the "Atlantic", "Granta", "Harpers", "The New Yorker", "The New York Review of Books", and elsewhere. He is the author of "The New York Times" bestseller, "Einstein's Dreams" and "Good Benito".
Praise For Reunion…
"Elegant . . . spare, economical and charged with meaning ." --The New York Times Book Review
 
"One of a handful of writers in America capable of injecting the necessary quietude into his prose. . . . Reunion is that rare thing in this age: a genuine work of art." --Denver Post
 
"A skillful exercise in the evocation of memory and loss. . . . Lightman's delicate prose turns [Reunion] into a fascinating study." —The Washington Post Book World

"Marvelously written. . . . A worthy addition to Lightman's work." --Rocky Mountain News

"Lightman's prose leaps and twirls, circles his subjects and raises them up. If Degas or Manet had written prose it would read like this. . . . Reunion is that rare thing in this age: a genuine work of art."  --Denver Post

"A skillful exercise in the evocation of memory and loss. . . . Lightman's delicate prose turns [Reunion] into a fascinating study." --The Washington Post Book World

"Reunion seeks . . . to plumb life's most complicated and enduring relationship: that between who one was and who one is. . . . Reunion most powerfully explores the seductions and betrayals of young love."  --The New York Times

"Undeniably affecting. . . . Memorably lovely. . . . Lightman's lyrical meditation on aging and nostalgia [will] hit home for just about any reader." --San Francisco Chronicle

"Haunting. . . . He has a Proustian concern for manipulations of time and memory . . . [a] melancholy grasp of the sovereign ineluctability of time, that 'hour of eternity.' . . . Such a rueful consciousness is a pleasure to witness." --Boston Globe

"A profoundly human story, rich in depth and nuance. . . . Lightman writes with a lightness, a lyrical understatedness that belies the underlying depths and complexities of the novel. . . . Reunion is the work of a great writer." --The Globe and Mail (Toronto)

"Prose both luminous and precise. . . . The images of lightness and beauty and grace, of complexity and obsession that Lightman conjures through Charles' vision of his lover make us participate in Charles' yearning." --The San Diego Union Tribune

"A subtle and haunting novel. . . . In Lightman's hands, the act of remembrance becomes a meditation on time, loss, and the ultimate selfishness of love. His writing gets under your skin precisely because of its measured and undemonstrative tone." --Daily Mail (London)

"An achingly beautiful story about memory and the loss of passion. . . . Lightman succeeds in writing an inventive, unsentimental love story." —The Newark Star-Ledger

"Uncommonly rich imagination  . . . a masterful touch." -- Rocky Mountain News