The Discoveries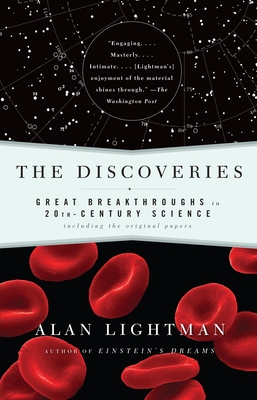 The Discoveries
Great Breakthroughs in 20th-Century Science, Including the Original Papers
Vintage Books USA, Paperback, 9780375713453, 553pp.
Publication Date: November 14, 2006
* Individual store prices may vary.
Buy Now
or
Shop Local
Enter your zip code below to purchase from an indie close to you.
Description
In this captivating and lucid book, novelist and science writer Alan Lightman chronicles twenty-four great discoveries of twentieth-century science--everything from the theory of relativity to mapping the structure of DNA.These discoveries radically changed our notions of the world and our place in it. Here are Einstein, Fleming, Bohr, McClintock, Paul ing, Watson and Crick, Heisenberg and many others. With remarkable insight, Lightman charts the intellectual and emotional landscape of the time, portrays the human drama of discovery, and explains the significance and impact of the work. Finally he includes a fascinating and unique guided tour through the original papers in which the discoveries were revealed. Here is science writing at its best–beautiful, lyrical and completely accessible. It brings the process of discovery to life before our very eyes.
About the Author
Alan Lightman, Ph.D., currently Senior Lecturer in Physics at M.I.T., received the Association of American Publishers Award for the best book in physical science for Origins. His writing appears in the "Atlantic", "Granta", "Harpers", "The New Yorker", "The New York Review of Books", and elsewhere. He is the author of "The New York Times" bestseller, "Einstein's Dreams" and "Good Benito".
Praise For The Discoveries…
"Engaging. . . . Masterly. . . . Intimate. . . . [Lightman's] enjoyment of the material shines through." –The Washington Post

"Lightman's map of 20th century science beautifully conveys the human drama of discovery." –American Scientist

"An intriguing mix of the famous and unfamiliar." –The Boston Globe

"Lightman's introductions to the discoveries are, collectively, an outstanding primer on the development of science in the twentieth century."–The Nation