Faith and Freedom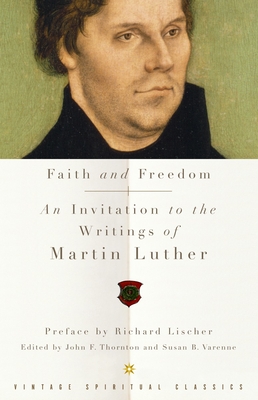 Faith and Freedom
An Invitation to the Writings of Martin Luther
Vintage, Paperback, 9780375713767, 432pp.
Publication Date: May 7, 2002
* Individual store prices may vary.
Buy at Local Store
Enter your zip code below to purchase from an indie close to you.
or
Not Currently Available for Direct Purchase
Description
Faith and Freedom: An Invitation to the Writings of Martin Luther is the first selection in decades for the general reader from the many dozens of volumes that constitute Martin Luther's collected works. The selections included here, chosen for their pastoral tone, speak across the centuries and inform the spiritual concerns of today.Drawing on Luther's Bible prefaces and commentaries, his treatises and sermons, his letters, his table talk, and his enduring hymnbook, Faith and Freedom will provide a spiritual resource for anyone seeking the heritage of modern Christian spirituality. Moreover, it requires no specialized knowledge of Reformation theology or Church history. Rich in language, direct, powerful, fresh in ideas, and often disquieting in their effect, the writings of Luther provide compelling reading.
About the Author
Martin Luther (1483, 1546) was a German monk, a theologian and church reformer, he is considered to be the founder of Protestantism. Luther was a professor of Bible at the University of Wittenberg when he posted his famous 95 Theses (1517). In addition to writing many books, Luther translated the Bible into German. Luther believed that salvation was only by faith in Jesus, unmediated by the church. He challenged papal authority by emphasing the Bible as the only source of religious authority and believed the church to be a priesthood of all believers.These ideas helped to inspire the Protestant Reformation and changed the course of Western civilization. He married Katharina von Bora thus initiating the practice of clerical marriage within Protestantism.- Publisher.

EVELYN UNDERHILL (6 December 1875 - 15 June 1941) was an English author, speaker and pacifist known for her numerous works on religion and spiritual practice. In the English-speaking world, she was one of the most widely read writers on such matters in the first half of the 20th century. In her earlier writings Underhill often wrote using the terms "mysticism" and "mystics" but later began to adopt the terms "spirituality" and "saints" because she felt they were less threatening. She was often criticized for believing that the mystical life should be accessible to the average person. Today, Underhill remains a respected writer on religion and spiritual practice. During World War II, she may well have played a powerful part in the survival of her country through the influence of her words and the impact of her teachings on thousands regarding the power of prayer. Surviving the London Blitz of 1940, her health disintegrated and she died in the following year.

A former publishing executive, John F. Thornton is a literary agent and co-editor of Tongues of Angels, Tongues of Men: A Book of Sermons. He lives in New York City.