In Revere, in Those Days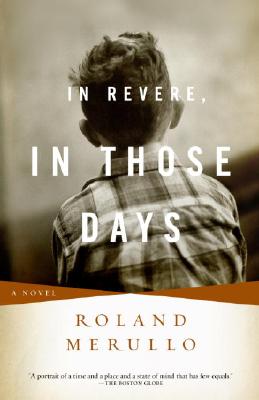 In Revere, in Those Days
Vintage, Paperback, 9780375714054, 320pp.
Publication Date: October 14, 2003
* Individual store prices may vary.
Buy Now
or
Shop Local
Enter your zip code below to purchase from an indie close to you.
Description
In this richly evocative novel--the moving story of one boy's coming of age--acclaimed author Roland Merullo will make you nostalgic for a small Massachusetts city called Revere even if you've never been there. Providing a window into an unspoiled America of forty years ago, In Revere" "welcomes you to the fiercely loyal and devoted Italian-American family of the Benedettos.
Although he was orphaned as a child, young Anthony Benedetto was always surrounded by family, and the vibrant warmth of the Revere community. His Uncle Peter, a former Golden Gloves boxer whose days of glory were behind him, believed Tonio was bound for great things. So did his daughter Rosie, Tonio's favorite cousin, who would take many wrong turns--away from Tonio--through adolescence. His gentle grandparents, who took him in, encouraged him to claim a future outside of Revere, but the warm, unconditional love of his family, and the smells and sounds of Revere stay with him forever.
About the Author
Roland Merullo is the critically acclaimed author of five books of nonfiction and twelve novels, including the Revere Beach Trilogy, "Golfing with God", "Breakfast with Buddha, The Vatican Waltz, " and "Dinner with Buddha. "He lives with his wife and children in Massachusetts. His website is www.rolandmerullo.com.
Praise For In Revere, in Those Days…
"The details are just right, and the result is a portrait of a time and a place and a state of mind that has few equals." —Boston Globe

"A poignant look at a life with roots, and how sometimes you have to leave those roots. . . . Merullo has created characters that seem almost too real to be imagined. . . . The telling of their stories is as fresh and real as people from your own childhood." –The Philadelphia Inquirer

"Merullo has a knack for rendering emotional complexities, paradoxes or impasses in a mere turn of the phrase." —Chicago Tribune

"What makes In Revere, In Those Days stand out from most other contemporary novels is its graceful prose, its deep and decent characters, and its quiet insistence upon the fundamental dignity of humanity." —Seattle Times

"In his willowy-tough style, Merullo creates characters as familiar as the man at the corner store, as breathtaking as a winner at the track." —Boston Magazine

"[This] novel is so true that it has the authenticity of a memoir. It will, I think, be compared—and favorably—to A Separate Peace…. I can't remember the last time I was moved to tears by a novel in the way that I was, at several junctures, with In Revere, In Those Days. It is an extraordinary achievement." —Anita Shreve, author of The Pilot's Wife and The Weight of Water

"Beautiful and shapely.…The rhythm of the chapters beguile.…The sacrament of Italian American family lives in the heart of the words, displayed with perfect clarity and utter humanity.…A pleasure to read, and to read again." —Booklist (starred review)

"A beautiful story--told with the compelling voice of a writer who is willing to approach the enormous question of redemption, and does so with truthfulness and striking decency." —Elizabeth Strout, author of Amy and Isabelle

"Emotionally complex, politically intelligent, beautifully written: Among the best from a novelist in the classic American tradition." —Kirkus (starred review)

"The gifted Merullo tells Anthony's bittersweet coming-of-age story with crafty narrative and a beautifully vivid depiction of the time and place.…Highly recommended." —Library Journal (starred review)