The Killing of Crazy Horse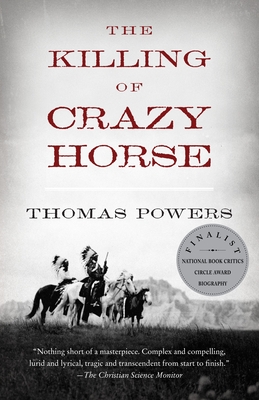 The Killing of Crazy Horse
Vintage Books, Paperback, 9780375714306, 568pp.
Publication Date: November 1, 2011
* Individual store prices may vary.
Buy at Local Store
Enter your zip code below to purchase from an indie close to you.
or
Not Currently Available for Direct Purchase
Description
With the Great Sioux War as background and context, and drawing on many new materials, Thomas Powers establishes what really happened in the dramatic final months and days of Crazy Horse's life.
He was the greatest Indian warrior of the nineteenth century, whose victory over General Custer at the battle of Little Bighorn in 1876 was the worst defeat ever inflicted on the frontier army. But after surrendering to federal troops, Crazy Horse was killed in custody for reasons which have been fiercely debated for more than a century. "The Killing of Crazy Horse "pieces together the story behind this official killing.
About the Author
Thomas Powers is a Pulitzer Prize-winning journalist. His most recent book is "The Killing of Crazy Horse".
Praise For The Killing of Crazy Horse…
National Book Critics Circle Award Finalist

Winner of the Los Angeles Times Book Prize for Best History

"Nothing short of a masterpiece. Complex and compelling, lurid and lyrical, tragic and transcendent from start to finish."
—The Christian Science Monitor

"Chilling and unforgettable. . . . A portrait done in the blood of the heartland, a heart still beating after all these years. Powers has given us a great book, a great painting of that still-beating heart."
—The Washington Post

"Richly textured. . . . Carefully and elegantly wrought. . . . Powers tells us much that is revealing and moving about the Sioux in their last days as free warriors."
—The New York Times Book Review
 
"A story rife with intrigue, rivalry, factionalism, jealousy and betrayal. Powers works through this maze with admirable insight. . . . The Killing of Crazy Horse will stand the test of time."
—The Wall Street Journal

"Superb. . . . An epic tale. . . . Powers's book reads like a fine historical novel, rich in important detail and fully formed minor characters, filled with felicitous summary of crucial information."
—St. Louis Post-Dispatch
 
"A skillfully written, meticulously researched book that covers far more than the chief's final days and hours."
—Chicago Tribune
 
"Masterful. . . . A fascinating portrait of the great and mysterious Sioux war chief and of the pivotal era in hour history in which he lived and died. . . . [Powers] is not only an accomplished digger of facts but someone who understands that in matters of war and politics there are very few good—or bad—guys."
—St. Petersburg Times
 
"A compelling look into the politics and prejudices that shaped the era. . . . Evocative and evenhanded. . . . A rich and worthwhile read."
—The Oregonian
 
"Packed with hundreds of memorable characters, sharply drawn . . . an incredible mix of life that few books or movies present as well as this book does. . . . This is a masterful book, an epic read. Powers has repaid the Indians he found compelling and mysterious as a kid 60 years ago with this marvelous, well-told tale."
—The Washington Times
 
"Sophisticated and unsentimental. . . . [Powers] has crafted a masterful account of The Great Sioux Wars and solved a murder mystery."
—Tulsa World
 
"[A] landmark history. . . . A well-balanced account of the clash of cultures and civilizations. . . . Powers brings the characters to life better than any previous author. . . . What Powers has so masterfully portrayed is the political bickering within the Sioux nation and the U.S. Army's role in one of the most shameful episodes in American history."
—Army Magazine
 
"There is a sustained feeling of excitement throughout the book, a sense of the historian's hunt. . . . Powers is determined to untie the knots, to find out how Crazy Horse really died and why."
—Los Angeles Times
 
"Tom Powers's masterpiece, long awaited and very worth the wait. It's one of the finest books yet written about the American West—dense with insight, filled with fascinating characters, including a fine portrait of the enigmatic warrior Crazy Horse. Anyone interested in the settlement of the West should hurry and buy it."
—Larry McMurtry
 
"Tremendous. . . . The Killing of Crazy Horse is one of the most moving and compassionate books on the Indian Wars published in some time."
—The American Scholar
 
"Never before has this story been told so masterfully."
—True West Magazine
 
"Lucid, controlled and compulsively readable. . . . A skillful synthesis of historical research and contested narrative, resonant with enduring loss."
—Kirkus Reviews
 
"Intricately structured and exhaustively researched, Thomas Powers's powerful narrative thrashes its way through the thickets of the Big Horn and Yellowstone Expedition to solve the conundrum of the killing of Crazy Horse. By giving equal weight to the Indian narrative, Powers gives the story the complexity it deserves."
—Ted Morgan, Pulitzer Prize-winning journalist and author of Wilderness at Dawn: The Settling of the North American Continent and A Shovel of Stars: The Making of the American West