Japanese Tales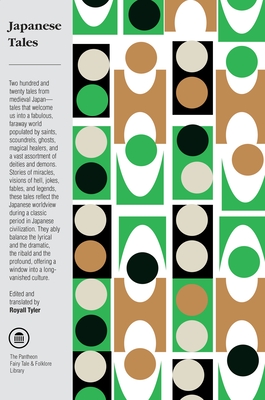 Japanese Tales
Pantheon Books, Paperback, 9780375714511, 400pp.
Publication Date: August 13, 2002
* Individual store prices may vary.
Buy at Local Store
Enter your zip code below to purchase from an indie close to you.
or
Buy Here
Description
Here are two hundred and twenty dazzling tales from medieval Japan, tales that welcome us into a fabulous, faraway world populated by saints and scoundrels, ghosts and magical healers, and a vast assortment of deities and demons. Stories of miracles, visions of hell, jokes, fables, and legends, these tales reflect the Japanese worldview during a classic period in Japanese civilization. Masterfully edited and translated by the acclaimed translator of "The Tale of Genji, " these stories ably balance the lyrical and the dramatic, the ribald and the profound, offering a window into a long-vanished though perennially fascinating culture.
Part of the Pantheon Fairy Tale and Folklore Library.
About the Author
Born in Boston, Massachusetts in 1757 to Royall Tyler and Mary (Steele) Tyler, Tyler attended the Boston Latin School, Yale and then Harvard, where he earned a reputation as a quick-witted joker. After graduation, he briefly served in the Massachusetts militia under John Hancock during the abortive Rhode Island expedition. In late 1778, he returned to Harvard to study law, and was admitted to the Massachusetts bar in 1780. He opened a practice in Braintree, Massachusetts, eight miles outside of Boston. After a brief stint in suppressing the 1787 Shays's Rebellion, Tyler moved to Boston and boarded in the house of Elizabeth Palmer. After unsuccessfully courting Abigail Adams for many years, in 1794, he wed the Palmers's daughter, Mary Palmer, took her to his new home in Vermont, and with her had eleven children. In 1801, Tyler was appointed to the Supreme Court of Vermont as an assistant judge, and was later elected chief justice. In 1812 he ran unsuccessfully for the US Senate. In 1826, he died in Vermont, of facial cancer that he had suffered from for ten years.
Praise For Japanese Tales…
"Few readers who start the book will be able to resist going through to the end."
-- New York Times

"Fresh, imaginative, and uniquely organized...told in a style clear, homey, and unpretentious, [they] yield great pleasure."
-- Kirkus Reviews

"Enchanting....The stories are variously witty, allegorical, mystical, gross, funny, and enigmatic....Tyler provides a helpful introduction, and his poised translations are something of a masterpiece."
-- Publishers Weekly

"Translated with exceptional skill, this is a perfect example of scholarship concealing scholarship. Tyler has made these tales read gracefully and effortlessly. He writes in a lively and colloquial style that effectively captures the spirit of the originals without being jarringly modern. This is an important book."
-- Donald Keene, Shincho Professor of Japanese, Columbia University

"Royall Tyler's translations are nothing short of superb -- crisp, restrained, ably balancing the ribald and the profound. The results make available masterpieces from five centuries of Japanese literature. This book is a stellar addition to Pantheon's "outstanding folklore series."
--Booklist