Snakepit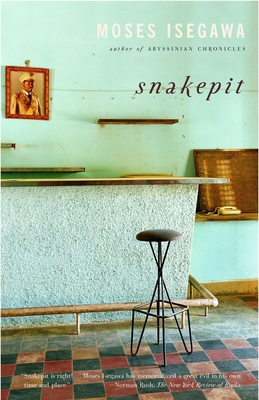 Snakepit
Vintage Books USA, Paperback, 9780375719219, 259pp.
Publication Date: April 12, 2005
* Individual store prices may vary.
Buy Now
or
Shop Local
Enter your zip code below to purchase from an indie close to you.
Description
Praised on both sides of the Atlantic as well as in the author's native Uganda, Moses Isegawa's first novel Abyssinian Chronicles was a "big, transcendently ambitious book" ("Boston Globe") that "blasts open the tidy borders of the conventional novel and redraws the literary map to reveal a whole new world" ("Elle").
In Snakepit, Isegawa returns to the surreal, brutalizing landscapes of his homeland during the time of dictator Idi Amin, when interlocking webs of emotional cruelty kept tyrants gratified and servants cooperative, a land where no one-not husbands or wives, parents or lovers-is ever safe from the implacable desires of men in power. Men like General Bazooka, who rues the day he hired Cambridge-educated Bat Katanga as his "Bureaucrat Two"-a man "too" good at his job-and places in his midst (and his bed) a seductive operative named Victoria, whose mission and motives are anything but simple. Ambitious and acquisitive, more than a little arrogant, Katanga finds himself steadily boxed in by events spiraling madly out of control, where deception, extortion, and murder are just so many cards to be played.
About the Author
Moses Isegawa (born August 10, 1963 in Uganda) is the pseudonym for Sey Wava, a Ugandan author. He worked as a history teacher before leaving for the Netherlands in 1990. He is the author of Abyssinian Chronicles and Snakepit. He resided for more than 15 years in Beverwijk, a small town near Amsterdam. In 2006 he returned to Uganda.
Praise For Snakepit…
"To read Snakepit . . . is to understand the seduction of power in its most naked form." —The Boston Globe

"A devastating portrait of a country on the brink of implosion. . . . C]mplicated and intense. . . . Full of visceral, graphic language and acts of premeditated violence, Snakepit offers a dark, queasy-making vision of a country hijacked by greed and megalomania, though Isegawa allows for a glimmer of hope." --San Francisco Chronicle

"This diverting, absorbing read . . . makes us wonder where Isegawa's creative genius will take him next." -St. Louis Post-Dispatch

"Isegawa's painful honesty and his unwillingness to spare any of his characters make Snakepit a work of fiction that bears the hallmark of truth." —Newark Star-Ledger

"This diverting, absorbing read . . . makes us wonder where Isegawa's creative genius will take him next." -St. Louis Post-Dispatch

"Isegawa's painful honesty and his unwillingness to spare any of his characters make Snakepit a work of fiction that bears the hallmark of truth." —Newark Star-Ledger

"Reads like a macabre horror tale–the special agent comes home to find his wife with her head cut off–but the fiction is grounded in the facts of Idi Amin's dictatorship in Uganda in the 1970s, when atrocity was 'business as usual'…Unforgettable." —Booklist

"Isegawa has the raw talent to become one of Africa's leading literary voices in the years to come." —Chicago Tribune

"Isegawa…one of Africa's premier writers, has crafted a savage portrait of a society gone mad, where maintaining one' s power and the favor of the dictator at all costs are the only ends." -Library Journal

"Sharp, harrowing, indelible." —The Seattle Times

"Isegawa assembles a devastating portrait of a paranoid society riddled with rivalries and enmities and fuelled by quests for one-upmanship and revenge… High-octane melodrama bearing a potent political and moral message. Isegawa delivers the goods."
-Kirkus Reviews