Samaritan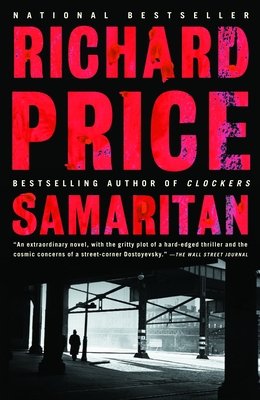 Samaritan
Vintage, Paperback, 9780375725135, 400pp.
Publication Date: June 8, 2004
* Individual store prices may vary.
Buy at Local Store
Enter your zip code below to purchase from an indie close to you.
or
Not Currently Available for Direct Purchase
Description
Ray Mitchell, a former TV writer who has left Hollywood under a cloud, returns to urban Dempsy, New Jersey, hoping to make a difference in the lives of his struggling neighbors. Instead, his very public and emotionally suspect generosity gets him beaten nearly to death. Ray refuses to name his assailant, which makes him intensely interesting to Detective Nerese Ammons, a friend from childhood, who now sets out to unlock the secret of his reticence. Set against the intensely realized backdrop of urban America, the cat and mouse game that unfolds is both morally complex and utterly gripping.
About the Author
Richard Price is the author of seven novels, including "Lush Life, Clockers, Freedomland, "and "Samaritan," He wrote the screenplays for the films" Sea of Love, Ransom," and "The Color of Money," for which he received an Academy Award nomination. He won the 2007 Edgar Award for Best TV writing as a co-writer for the HBO series "The Wire," Price was also awarded a Literature Award from The American Academy of Arts and Letters. He lives in New York City.

Praise For Samaritan…
"A whodunit with substance and suspense…Price is known for terrific dialogue, and there are moments when you feel as if you are listening to [his characters] speak, not just reading words on a page…It's the most interesting kind of mystery–one in which the villain is not so easy to spot even when we know who committed the crime."
–Anne Stephenson, USA Today

"Engaging…provocative…Price has a fine ear for the subtle tension between sentimentality and real devotion, and he understands the way that chronic black poverty plays into the needs of 'the selflessly selfish.' If this is a novel that raps the knuckles of a helping hand, it's nonetheless one to grab on to."
–Ron Charles, The Christian Science Monitor

"It's a tribute to Price's originality that [his] characters become as distinct and real as they do…Well-intentioned Ray [is] enigmatic and fresh…Price has a great way with dialogue, [and] a better-developed-than-usual sense of structure. Samaritan unfolds on twin time tracks, [and the] carpentry works…Price's revelation of the culprit is absolutely consistent with his characters and thematically right on the money…Anyone who thinks fiction or literature too small a shelf to include the other stands to learn a lot from Richard Price."
–David Kipen, San Francisco Chronicle

"Giving new meaning to the term "inner city," Price yields up not just the familiar, blanched moonscape of urban blight but the inner lives and jackhammering hearts of those who pace and patrol it."
–The New Yorker

"A dream of a book…a supremely suspenseful novel (with a denouement that will leave you marveling at how artfully the author kept us from guessing the perpetrator's identity), but to call it a thriller would be selling it short. Part police procedural, part high-wire psychodrama, part social study, it's a wholly engrossing hybrid that packs an emotional wallop…."
–Tom Sinclair, Entertainment Weekly

"Dazzling…The perfect pace of a superb storyteller is but one of the gifts Mr. Price brings to Samaritan. Razor-sharp dialogue is another, as well as his urban-poetic descriptive flair. It all makes for an extraordinary novel, with the gritty plot of a hard-edged thriller and the cosmic concerns of a streetcorner Dostoyevsky."
–Tom Nolan, Wall Street Journal

"A whodunit only in format, Samaritan is that rarity, a novel of race relations written with authority, panache and heart."
–Dan Cryer, Newsday

"Powerful…Wise…The novel is alive because writers like Price are crafting books like Samaritan, about a guy who discovers the hard way what a complicated transactions charity can be…For all the homework that went into Clockers, Price was never a dealer or a cop. But he has been what Ray is in Samaritan, an intruder in other people's lives. His fellow feeling with this character goes deep. What he knows about Ray you don't learn by researching the streets. Instead, you prowl your own heart. It's one more beat that Price knows how to walk with authority."
–Richard Lecayo, Time

"Without dictating Price's fiction, reality inspires his imagination, provoking a finely detailed and immensely readable inquiry into what might be called the double nature of benevolence…Where a typical crime novel would traffic in surprises and twists, Price has always eschewed the formula. The wisdom and impact of his recent books derive from his insight into just how unspectacular crime can be. The perpetrators in Price's fiction act less out of passion or greed than drudgery and shattered hope…On the narrative journey from mystery to resolution, Price demonstrates his usual gifts for dialogue, detail and empathetic portraiture…When a novelist stays that close to the ground, there is no confusing illusion with actuality…Wrenching."
–Samuel G. Freedman, Chicago Tribune (front page)

"Price is renowned for in-your-face fiction: violent, fast-paced, yet morally complex…He's also demonstrated a flair for believable dialogue and visual detail…[Samaritan is] another of Price's first-rate urban morality plays–a compassionate, politically savvy whodunit that reads like Dostoevsky circa 2003…He proves himself to be one of our best chroniclers of big-city experience."
–Paul Evans, Book

"A full-to-bursting package held together by a strong, suspenseful plot… Unknowability is the key to Ray Mitchell, the essence of what makes him such a fascinating saint…Ray is preternaturally alert, alive to the mental states of those around him. Price, through Ray's alertness, gives even minor characters a real, if temporary, being. And yet–and here's the miracle–because it's Ray's alertness, the novel, though various and populous, feels centered on his character and therefore strong. Price does this in few words. It's not a function of I.Q. It's not articulate. It's more like a prickling of the flesh…A demographic epic filled with little people who command true human feeling…"
–Mark Costello, New York Times

"Price's seventh novel ranks with the best of the others…His books have the gutsy appeal of the classiest hard-boiled mysteries: fast pace, tripping idiomatic dialogue, unpredictable plot swerves, zingy sex, and genuine suspense…But [Samaritan] also possesses philosophical breadth, clearheaded social commentary, and a fine facility with language…Price's vivid documentation may tease us into thinking we are in Dempsy, New Jersey, but in fact we are in existentialist territory… So quirky a mix of virtues makes [Price] unique…Terrific."
–Lynne Sharon Schwartz, The New Leader

"[Samaritan] hurtles along like the PATH train that traverses Price's urban landscape, weaving back and forth, before and after the severe beating of Ray Mitchell [whose] complexity is matched by the detective investigating the crime…Price's dialogue rings true throughout, and his sense of place is solid and of the moment."
–Ellen Rubin, Elle

"Price is not just a gifted writer but also one who thinks long and hard about human behavior...We know from page one that we're in good hands, with masterful detail, vivid scene-setting, and acutely observed, naturalistic dialogue. The crime-solving framework pulls us forward but is unencumbered by the pedantic detail of a police procedural, and the depth of the characterizations is magnificent: [The main characters] and the considerable supporting cast are fully imagined beings who surprise us but never test our credulity. Enmeshed in this taut storytelling is a meditation on the complicated nature of giving, and a caution that, with ill-considered charity, we can hurt others even when we think we're doing them a favor. Superb."
–Keir Graff, Booklist (starred and boxed review)

"Richard Price is, without a doubt, one of our greatest living novelists. His voice is comic, skeptical, and at all times, deeply humane. Samaritan is a masterpiece, a novel that is actually about–surprise of surprises–the world we live in now. Violent, tender, hilarious, and heartbreaking, it is a world that, in Price's hands, is so ably rendered that even its smallest truths attain the power of universal myth."
–Dennis Lehane, author of Mystic River

"It seems to me that Richard Price has taken his gifts for rendering human speech and for describing the jittery uncertainty of life at the bottom, and created a narrative filled with the sweet despair such as would come from angels looking down on us and watching us suffer."
–Scott Spencer

"The great literature of the world is derived from the mean streets, and no American writer knows them better, or can drive a story line harder, than Richard Price. Samaritan burns, not only with stylistic eloquence but with relentless certainty–from each richly evocative scene, each amazingly felt character, to the next. Price writes the way an architect builds, sketching out his plan, thinking it over to the most minute details. Thus the foundations of Samaritan are so fundamentally valid that its presentation is a masterpiece of the form. Price has artfully concealed a haunting treatise on the nuances and ambiguities of human decency, compassion, and generosity in the guise of a superlative thriller. Samaritan is Price's best book to date."
–Thom Jones, author of The Pugilist at Rest

"One has come to expect from Richard Price, the most brilliant of sardonic ironists, an eye for revelation in the commonplace, even a kind of modern social history. But Samaritan is also a subtle story of seduction and abandonment, of the dangerous luxury of responsibility, and the risks that are inevitable when one is capable of love."
–Susanna Moore, author of In the Cut

"The mastery of urban melodrama that Price demonstrated in literate blockbusters like Clockers (1992) and Freedomland (1998) keeps growing and deepening–as evidenced in [this] story of a neighborhood and of conflicting ways of life…A virtuoso alternation of advancing action with detailed flashbacks shows how…this mystery raises troublesome ghosts from the past, while also introducing a boldly drawn gallery of involved and potentially guilty characters...A ferocious admixture of bleak wit and sorrowful compassion…The story positively vibrates with Price's trademark virtues of pinpoint observation and punchy dialogue…And the killer climax and ironic denouement couldn't be improved upon. Magnificent stuff. If Elmore Leonard broke out of genre and were 30 years younger, he'd be Richard Price."
–Kirkus (starred review)

"Richard Price's Samaritan is gripping, ambitious, and resonant entertainment, everything you hope to find in an American novel and so rarely do. This is the work of a fiercely honest writer at the top of his game." –George Pelecanos, author of Hell to Pay

"I read Richard Price for the cool, spare sound of his writing, his words, the language he has in his bag that fits so exactly in his settings. The characters talk the talk; the main one, Nerese Ammons, a gem, 20 years a cop in the NY-NJ iron triangle, lays open the plot, scene after scene, at a beautiful pace. Richard Price has written a terrific novel." –Elmore Leonard

"Samaritan blew my mind . . . I don't think anyone ever sent me a book in hopes of a comment that was this good . . . An absolutely riveting story. The reader is hooked from the first page . . ." –Stephen King

"The mastery of urban melodrama that Price demonstrated in literate blockbusters like Clockers (1992) and Freedomland (1998) keeps growing and deepening–as evidenced in [this] story of a neighborhood and of conflicting ways of life…A virtuoso alternation of advancing action with detailed flashbacks shows how…this mystery raises troublesome ghosts from the past, while also introducing a boldly drawn gallery of involved and potentially guilty characters...A ferocious admixture of bleak wit and sorrowful compassion…The story positively vibrates with Price's trademark virtues of pinpoint observation and punchy dialogue…And the killer climax and ironic denouement couldn't be improved upon. Magnificent stuff. If Elmore Leonard broke out of genre and were 30 years younger, he'd be Richard Price." –Kirkus (starred review)