Bayou Farewell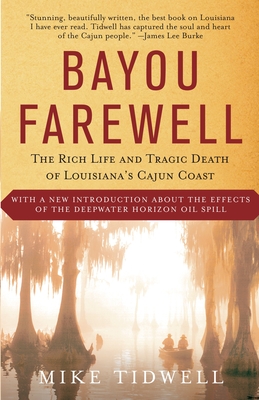 Bayou Farewell
The Rich Life and Tragic Death of Louisiana's Cajun Coast
Vintage, Paperback, 9780375725173, 384pp.
Publication Date: March 9, 2004
* Individual store prices may vary.
Buy at Local Store
Enter your zip code below to purchase from an indie close to you.
or
Buy Here
Description
The Cajun coast of Louisiana is home to a way of life as unique, complex, and beautiful as the terrain itself. As award-winning travel writer Mike Tidwell journeys through the bayou, he introduces us to the food and the language, the shrimp fisherman, the Houma Indians, and the rich cultural history that makes it unlike any other place in the world. But seeing the skeletons of oak trees killed by the salinity of the groundwater, and whole cemeteries sinking into swampland and out of sight, Tidwell also explains why each introduction may be a farewell as the storied Louisiana coast steadily erodes into the Gulf of Mexico.
Part travelogue, part environmental expose, "Bayou Farewell" is the richly evocative chronicle of the author's travels through a world that is vanishing before our eyes.
About the Author
Mike Tidwell predicted in vivid detail the Katrina hurricane disaster in his 2003 book, "Bayou Farewell: The Rich Life and Tragic Death of Louisiana's Cajun Coast". He has written five books centered on the themes of travel and nature. These include "Amazon Stranger" (detailing efforts to save the Ecuadorian rain forest) and "In the Mountains of Heaven" (travels to exotic lands across the globe). Tidwell has won four Lowell Thomas awards, the highest prize in American travel journalism, and is a former grantee of the National Endowment for the Arts. His articles have appeared in many national publications. Tidwell is also founder and director of the U.S. Climate Emergency Council, based in Takoma Park, Maryland. A native of Georgia, he now lives in Maryland with his nine-year-old son, Sasha.
Praise For Bayou Farewell…
"The best book on Louisiana I have ever read... Stunning, beautifully written." –James Lee Burke, author of White Doves at Morning
 "A remarkable book…. Tidwell knows how to tell a good story, and he tells this one smartly."–The Times-Picayune
 "Tidwell... tells [the story] with great passion for the land and for the Cajun, Houma Indian, and Vietnamese people who live and work on these waters. [He writes] about the people with great affection."- Rocky Mountain News
"Shocking…. The calamity that lies ahead is…underscored by Tidwell's bittersweet rendering of…a way of life that is slowly dying."–San Francisco Chronicle
"A tale both enlivening and sad... What makes Bayou Farewell so appealing is that Tidwell allows us to experience life on the bayou—and thus better appreciate what is being lost—through the lives of its chief residents, the Cajuns."- The News & Observer