A Serious Call to a Devout and Holy Life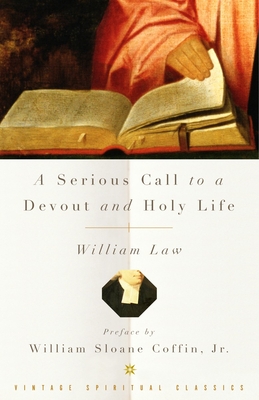 A Serious Call to a Devout and Holy Life
Vintage, Paperback, 9780375725630, 352pp.
Publication Date: August 13, 2002
* Individual store prices may vary.
Buy Now
or
Shop Local
Enter your zip code below to purchase from an indie close to you.
Description
Originally published at the beginning of the eighteenth-century Enlightenment, a time when rationalist criticism of religious belief was perhas at its peak, William Law's A Serious Call to a Devout and Holy Life succeeded in inspiring the most cynical men of the age with its arguments in favor of a spiritual life. More than simply articulating a set of rules to live by, Law's book examines what it means to lead a Christian life and criticizes the perversion of Christian tenents by the Establishment whether secular or spiritual whose real aim is temporal power. With a perface by the Reverend William Sloane Coffin, Jr., whose own direct engagement in social causes still finds inspiration in Law's argument, A Serious Call to a Devout and Holy Life is a book that can still speak to our time.
About the Author
William Law was one of the great clerics and educators of the Church of England. He was educated at Cambridge, eventually taking a teaching position there in addition to being ordained in the Church of England. The best known and most popular of the books he wrote was "A Serious Call to a Devout and Holy Life."
Praise For A Serious Call to a Devout and Holy Life…
"If Mr. Law finds a spark of piety in a reader's mind, he will soon kindle it into a flame." —Edward Gibbon