Crossers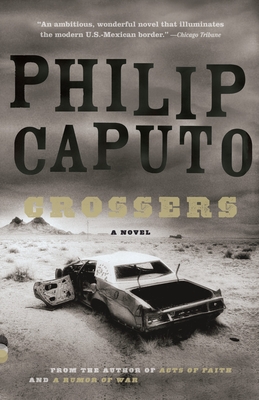 Crossers
Vintage, Paperback, 9780375725982, 464pp.
Publication Date: October 19, 2010
* Individual store prices may vary.
Buy at Local Store
Enter your zip code below to purchase from an indie close to you.
or
Buy Here
Description
When Gil Castle loses his wife, he retreats to his family's sprawling homestead out west, a forsaken part of the country where drug lords have more power than police. Here Castle begins to rebuild his life, even as he uncovers some dark truths about his fearsome grandfather. When a Mexican illegal shows up at the ranch, terrified after a border-crossing drug deal gone bad, Castle agrees to take him in. Yet his act of generosity sets off a flood of violence and vengeance, a fierce reminder that we never truly escape our history. Spanning three generations of an Arizona family, Crossers is a blistering novel about the brutality and beauty of life on the border.
About the Author
Philip Caputo is the author of fifteen books, including the classic Vietnam War memoir A Rumor of War and the novel Horn of Africa, which was a finalist for the National Book Award. His most recent book is The Longest Road. As a journalist, Caputo won the Pulitzer Prize and has published work in the New York Times, Washington Post, Esquire, and National Geographic, among other publications.
Praise For Crossers…
"An ambitious, wonderful novel that illuminates the modern U.S.-Mexican border." —Chicago Tribune 

"Crossers is a novel of grief and recovery, a love story, a thriller, but it is most of all a novel about a place, one that can break your heart and make it soar." —St. Petersburg Times 

 "A complex story, unfolding in varying viewpoints, all of them as rich and real as a home movie." —The Dallas Morning News 
 
"[A] remarkably ambitious book that packs a meaty, multi-generational story with enough scope, insight and realism to illuminate the modern U.S.—Mexican border. . . . Enthralling." —The Washington Post Book Review 

"Caputo gives us characters with credibility and individuality. . . . An intense, clear-sighted account of the times in which we live, of 9/11, the Iraq war, the 'war on drugs' and the conflict over illegal immigration. Caputo succeeds in showing how our contemporary paranoia and homeland insecurity are rooted in the inescapable past." —San Francisco Chronicle 
 
"A satisfying story, with memorable characters moving against a backdrop of beauty and brutality." —The Boston Globe  
 
"A historical story line involving the grandfather of Gil and Blaine, a legendary Old West lawman and killer . . . [is] so strong that it could be Mark Twain." —Los Angeles Times
 
"Caputo tells Ben's story with power and verisimilitude. . . . The reason I enjoyed Crossers as much as I did . . . is that it hints at how difficult it can be to draw conclusions—about evil, about Ben, and above all about the crossers themselves." —William T. Vollmann, The New York Times Book Review
 
"Caputo . . . has long focused his fiction on the moral ambiguities that have accompanied violent conflicts around the world—Vietnam, the Sudan, Iraq. With Crossers, he brings the war home, powerfully evoking an America marked by complexities, contradictions and an uncomfortable relationship with its own past." —BookPage
 
"Crossers takes us through generations of Arizona history with understanding, intelligence and beautiful language. . . . [Caputo's] feet and eyes are upon these great lands, and from the beauty of his writing, it's clear his heart is, too." —Tucson Weekly

"[A] novel of reflection and adventure. . . . Caputo is a wonderful writer, and you come away from his stories the better for your time spent." —The Decatur Daily

"Caputo writes with authority about all aspects of his story, including the drug and immigrant smuggling trades, what it was like for a soldier in the Mexican Revolution, how the Mexican-American border was once a fluid boundary, and the details of ranching in contemporary times and a hundred years ago. Crossers provides an accurate portrait of the violence, greed, and desperation that has cropped up around the border for generations. . . . A nuanced, panoramic portrait of lives lived and lost on the Mexican-American border." —New West