The Leopard Hat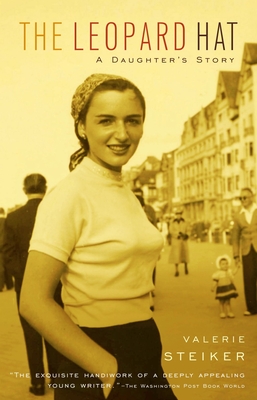 The Leopard Hat
A Daughter's Story
Vintage, Paperback, 9780375726200, 336pp.
Publication Date: May 6, 2003
* Individual store prices may vary.
Not Currently Available for Direct Purchase
or
Shop Local
Enter your zip code below to purchase from an indie close to you.
Description
In this tender loving memoir, Valerie Steiker evokes a magical childhood on the Upper East side of New York with a woman whose own losses led her to delight in family, beauty and life itself.

Valerie Steiker's Belgian Jewish mother, Gisèle—who, as a child in Antwerp, was hidden from the Nazis—wasn't a typical American mom. She spoke with throaty Belgian Rs and wore only high heels. Before her marriage, she had studied acting with Lee Strasburg and been a model in Mexico. With her vitality and elegance, she created a joyous childhood for Valerie and her sister. Together they tangoed through their vibrant Manhattan apartment, took in great art, and shared "women's hidden secrets." Gisèle's premature death left Valerie (at the time a junior at Harvard) unmoored, but in grieving and in finding her own path to womanhood, Valerie would ultimately grow to understand Gisèle more profoundly than she ever had as a child. Beautifully evocative of a glamourous and now-vanished world, The Leopard Hat is an extraordinary memoir about the warm and indelible bond between mother and daughter.
About the Author
Chris Knutsen, a senior editor at Vogue who's also worked at "GQ," "The New Yorker," and Riverhead Books, is the co-editor of "Committed: Men Tell Their Stories of Love," "Commitment, and Marriage," Valerie Steiker, author of "The Leopard Hat," is a senior editor at "Vogue" and has worked at "Artforum" and "The New Yorker,"
Praise For The Leopard Hat…
"The exquisite handiwork of a deeply appealing young writer. . . . Steiker's understated, moving prose penetrates deep into the interior itself: to the heart, to the mind." –TheWashington Post Book World

"Poignant. . . . a graceful tracing of her mother's life." —Vogue

"Such a beautiful book. . . . It's about what home means to you and how it can really be embodied in one person who shapes your life, and how to deal with it after that person is gone." --Anna Quindlen on the Today Show

"Lovely. . . . Vibrant. . . Gisele sought beauty and loved extravagance in a way that made her the most unforgettable character in her daugther's life. . . . Remind[s] you of Life Is Beautiful." —San Francisco Chronicle

"Extraordinary. . . . She titles each chapter of her elegantly structured work after an animal or an insect, then subtly and seamlessly weaves metaphors of anthropomorphism into her narrative, as if into a web." —Newsday

"Here Steiker proves the mother-daughter relationship does not have to be fraught with trouble to be memorable." —Boston Herald

"Poignant. . . . Quite beautiful. . . . A graceful tracing of her mother's life." —Vogue

"Delicious. . . . Don't be too surprised if you find yourself rereading passages just to enjoy Steiker's lush prose, rich descriptions, and above all the talent for living she inherited from her mother." —Bookreporter.com

"Valerie Steiker combines style and substance in The Leopard Hat, an ode to her flamboyant and sophisticated mother, Gisele." —Time Out New York

"An outstandingly moving valentine to [Steiker's] dashing and exuberant Belgian mother… What an incredible family album." —Daily Candy

"Completely charming …. Can there be any loving daughter who won't see something of her mother in this memoir, or many readers who won't be taken by its special mixture of the high-hearted and the heartbreaking?" —Adam Gopnik

"A luminously written debut. . . . A loving tribute to a woman who taught her daughters to value beauty and joy." —Kirkus