Palladio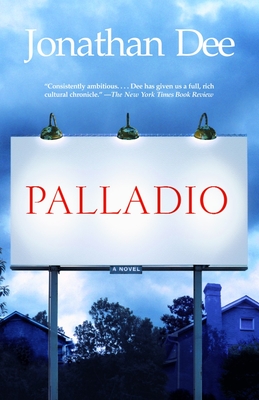 Palladio
Vintage Books USA, Paperback, 9780375726415, 400pp.
Publication Date: February 4, 2003
* Individual store prices may vary.
Shop Local
Enter your zip code below to find indies closest to you.
Description
In her small upstate New York town, Molly Howe is admired for her beauty, poise, and character, until one day a secret is exposed and she is cruelly ostracized. She escapes to Berkeley, where she finds solace in a young art student named John Wheelwright. They embark on an intense, all-consuming affair, until the day Molly disappears–again. A decade later, John is lured by the eccentric advertising visionary Mal Osbourne into a risky venture that threatens to eviscerate every concept, slogan, and gimmick exported by Madison Avenue. And much to John's amazement, one of the many swept into Osbourne's creative vortex is the woman who left him devastated so many years before.
About the Author
Jonathan Dee is the author of six novels, including the Pulitzer Prize finalist The Privileges. He is a contributing writer for the New York Times Magazine, a National Magazine Award-nominated literary critic for Harper's Magazine, and the recipient of fellowships from the National Endowment for the Arts and the Guggenheim Foundation. He lives in New York City.
Praise For Palladio…
"A vastly impressive book. . . . Dee has given us a full rich cultural chronicle." –The New York Times Book Review

"Pure literary entertainment . . . Palladio has narrative drive and energy, dramatic characters and conflicts, easygoing prose . . . humor and drama." –The Denver Post

"Dee unites a gripping love story with an ambitious novel of ideas." –Newsday

"In gorgeous language, hypnotic as a fairy tale . . . Palladio takes the moral temperature of our times." –Newark Star-Ledger

"Palladio shocks, delights and invigorates." –The Seattle Times

"Dee is always able to locate the abstract in the concrete. . . . A Tribeca studio or a small town abortion clinic or a Christian cultist sermon, are all equally interesting to him, and his clear, understated prose gives them a precise fictional life." –The Boston Phoenix

"Robustly imagined." –Time Out New York

"Dee perceptively explores the reciprocity of private manias and decadent social trends . . . dramatizing piquant questions of authenticity and mendacity, purity and depravity, leadership and despotism, love and manipulation." –Booklist