Newjack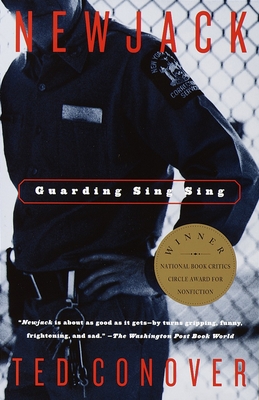 Newjack
Guarding Sing Sing
Vintage, Paperback, 9780375726620, 352pp.
Publication Date: June 12, 2001
* Individual store prices may vary.
Buy at Local Store
Enter your zip code below to purchase from an indie close to you.
or
Buy Here
Description
Acclaimed journalist Ted Conover sets a new standard for bold, in-depth reporting in this first-hand account of life inside the penal system at Sing Sing.
When Ted Conover's request to shadow a recruit at the New York State Corrections Officer Academy was denied, he decided to apply for a job as a prison officer himself. The result is an unprecedented work of eyewitness journalism: the account of Conover's year-long passage into storied Sing Sing prison as a rookie guard, or "newjack."
As he struggles to become a good officer, Conover angers inmates, dodges blows, and attempts, in the face of overwhelming odds, to balance decency with toughness. Through his insights into the harsh culture of prison, the grueling and demeaning working conditions of the officers, and the unexpected ways the job encroaches on his own family life, we begin to see how our burgeoning prison system brutalizes everyone connected with it. An intimate portrait of a world few readers have ever experienced, Newjackis a haunting journey into a dark undercurrent of American life.
About the Author
Ted Conoveris the author of several books includingNewjack: Guarding Sing Sing(winner of the National Book Critics Circle Award and a finalist for the Pulitzer Prize) andRolling Nowhere: Riding the Rails with America s Hoboes.His writing has appeared inThe New York Times Magazine, The Atlantic Monthly, The New Yorker, andNational Geographic.The recipient of a Guggenheim Fellowship, he is Distinguished Writer-in-Residence in the Arthur L. Carter Journalism Institute at New York University. He lives in New York City."
Praise For Newjack…
"An amazing book…. The stories are spellbinding and the telling is clear and cold."–The Washington Post Book World

"[Conover] has made us fully part of his experience…. It is hard to imagine any journalist doing this more daringly or effectively."–The New York Times

"A timely, troubling, important book."–The Baltimore Sun

"Newjack is a graphic and troubling window into society's scrapheap. Conover is to be commended for having the chops to venture where few others would dare go.... An important cautionary tale."–Los Angeles Times Book Review

"Newjack tells the straight skinny on a guard's life inside prison without being overly judgmental or cloyingly sentimental. It's experimental journalism at its best."–The Denver Post

"A devastating chronicle of the toll prison takes on the prisoners and the keepers of the keys."–Minneapolis Star Tribune

"An incisive and indelible look at the life of a corrections officer and the dark life of the penal system."–The Dallas Morning News

"A fascinating story.... Prison books crowd the shelves, but few tell the story from the point of view of the officers who spend eight hours a day doing time, hoping and praying that they make it home that night, hoping and praying that the job allows them to remain human."–The San Diego Union-Tribune