The Great Divorce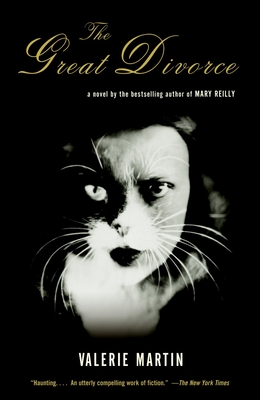 The Great Divorce
Vintage Books USA, Paperback, 9780375727184, 352pp.
Publication Date: February 4, 2003
* Individual store prices may vary.
Buy at Local Store
Enter your zip code below to purchase from an indie close to you.
or
Not Currently Available for Direct Purchase
Description
Three surprising women, their lives riven by divorce both literal and metaphorical: Ellen Clayton, reeling from her husband's decision to leave her after twenty years, finds meaning in caring for her teenage daughters and in her work as the veterinarian at the New Orleans Zoo. Her young assistant Camille, preyed on by a series of contemptuous men, experiences bizarre episodes in which she feels herself transforming into one of the great cats in her care. And Elisabeth Boyer, a passionate Creole aristocrat trapped on her husband's antebellum plantation, finds deliverance in the form of a black leopard, a powerful, merciless ally from the wild. Their unfolding stories blur distinctions of time, class and social construct to reveal the ordinary and extraordinary measures required to make our fractured world whole.
About the Author
Orange Prize-winner Valerie Martin is the author of nine acclaimed adult novels, including "Property" and "The Confessions of Edward Day". She lives in Millbrook, New York.
Praise For The Great Divorce…
"The Great Divorce is the kind of fiction that can briefly refocus and broaden the scope of what we notice about the world." —Francine Prose, Los Angeles Times "A subtly cadenced novel of racial and sexual transgressions." —Joyce Carol Oates "The generosity of Martin's understanding opens every character to the full, astounding range of human possibility. Her revelations build mesmerizing excitement, a surprising kindness, and an unexpected sanity in the darkness." —Katherine Dunn, The Washington Post Book World"The prose is dreamlike but vivid. . . . It is beautifully written, and evokes New Orleans, both as a real place and as a fevered fantasy." —The Philadelphia Inquirer"Compulsively readable, a great mixture of psychological insight and good storytelling." —Chicago Sun-Times"Completely engrossing. . . . Martin describes heartbreak and endurance while maintaining the tension of a psychological thriller. A meticulously designed, subtly executed delight." —New York Daily News"Moves with irresistible momentum, carrying us from one mysterious world to another. Martin's prose is beautifully crisp and clean." —Newsday"The Great Divorce becomes something more than the sum of its parts, an inventive and original novel of nature and humanity, freedom and captivity, love, transformation and the call of the wild." —The Orlando Sentinel"A blend of gothic horror and psychological drama. . . . An extraordinary, and endlessly mysterious, work of fiction." —Entertainment Weekly"The Great Divorce evocatively humanizes the wild nature that is just beneath the surface of us all." —Time"Sexy, absorbing and insightful . . . a great read." —People"Haunting. . . . An utterly compelling work of fiction." —The New York Times"The Great Divorce is at turns eerie, disturbing, painful and passionate, all the while honest and compelling. . .It is perhaps Martin's most provocative and resonant work." —San Francisco Chronicle"A deeply satisfying meditation on the separation between man and nature. . .Martin's fierce intelligence, her thematic concerns, here call to mind the work of Margaret Atwood and Doris Lessing." —The New Orleans Times-Picayune"Enthralling." —The Boston Globe