Hateship, Friendship, Courtship, Loveship, Marriage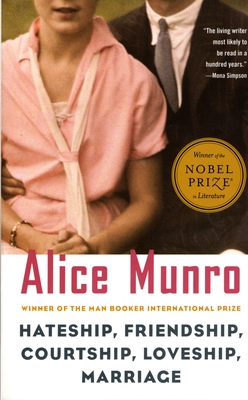 Hateship, Friendship, Courtship, Loveship, Marriage
Stories
Vintage, Paperback, 9780375727436, 336pp.
Publication Date: October 8, 2002
* Individual store prices may vary.
Shop Local
Enter your zip code below to find indies closest to you.
Description
WINNER OF THE NOBEL PRIZE(R) IN LITERATURE 2013
In the her tenth collection (the title story of which is the basis for the new film "Hateship Loveship)," Alice Munro achieves new heights, creating narratives that loop and swerve like memory, and conjuring up characters as thorny and contradictory as people we know ourselves.
A tough-minded housekeeper jettisons the habits of a lifetime because of a teenager's practical joke. A college student visiting her brassy, unconventional aunt stumbles on an astonishing secret and its meaning in her own life. An incorrigible philanderer responds with unexpected grace to his wife's nursing-home romance. Hateship, Friendship, Courtship, Loveship, Marriage is Munro at her best, tirelessly observant, serenely free of illusion, deeply and gloriously humane.
About the Author
Alice Munro, winner of the 2013 Nobel Prize in Literature, grew up in Wingham, Ontario, and attended the University of Western Ontario. She has published eleven collections of stories and two volumes of selected stories, as well as a novel. During her distinguished career she has been the recipient of many awards and prizes, including three of Canada s Governor General s Literary Awards and two of its Giller Prizes, the Rea Award for the Short Story, the Lannan Literary Award, England s W. H. Smith Book Award, the United States National Book Critics Circle Award, the Edward MacDowell Medal in literature, and the Man Booker International Prize. Her stories have appeared in the "New Yorker", "Atlantic Monthly", "Paris Review", and other publications, and her collections have been translated into thirteen languages. She lives in Clinton, Ontario, near Lake Huron.
Praise For Hateship, Friendship, Courtship, Loveship, Marriage…
"Surely Munro's best yet." –The New York Times Book Review

"She is the living writer most likely to be read in a hundred years." –Mona Simpson, The Atlantic Monthly

"One of the foremost practitioners of the art of the short story. . . . These tales have the intimacy of a family photo album and the organic feel of real life." –The New York Times

"A writer to cherish. . . . The sheer spaciousness of Munro's storytelling, her gift for surprising us with the truth about ourselves, has transcended national boundaries." –Los Angeles Times Book Review

"In Munro's hands, as in Chekhov's, a short story is more than big enough to hold the world–and to astonish us, again and again." —Chicago Tribune

Praise from fellow writers:

"Her work felt revolutionary when I came to it, and it still does." —Jhumpa Lahiri

"She is one of the handful of writers, some living, most dead, whom I have in mind when I say that fiction is my religion." —Jonthan Franzen

"The authority she brings to the page is just lovely." —Elizabeth Strout

"She's the most savage writer I've ever read, also the most tender, the most honest, the most perceptive." —Jeffery Eugenides

"Alice Munro can move characters through time in a way that no other writer can."—Julian Barnes

"She is a short-story writer who…reimagined what a story can do." —Loorie Moore

"There's probably no one alive who's better at the craft of the short story." —Jim Shepard

"A true master of the form." —Salman Rushdie

"A wonderful writer." —Joyce Carol Oates