History of the Present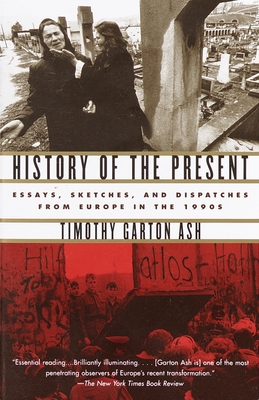 History of the Present
Essays, Sketches, and Dispatches from Europe in the 1990s
Vintage, Paperback, 9780375727627, 496pp.
Publication Date: September 11, 2001
* Individual store prices may vary.
Buy at Local Store
Enter your zip code below to purchase from an indie close to you.
or
Buy Here
Description
The 1990s. An extraordinary decade in Europe. At its beginning, the old order collapsed along with the Berlin Wall. Everything seemed possible. Everyone hailed a brave new Europe. But no one knew what this new Europe would look like. Now we know. Most of Western Europe has launched into the unprecedented gamble of monetary union, though Britain stands aside. Germany, peacefully united, with its capital in Berlin, is again the most powerful country in Europe. The Central Europeans Poles, Czechs, Hungarians have made successful transitions from communism to capitalism and have joined NATO. But farther east and south, in the territories of the former Soviet Union and the former Yugoslavia, the continent has descended into a bloody swamp of poverty, corruption, criminality, war, and bestial atrocities such as we never thought would be seen again in Europe.
Timothy Garton Ash chronicles this formative decade through a glittering collection of essays, sketches, and dispatches written as history was being made. He joins the East Germans for their decisive vote for unification and visits their former leader in prison. He accompanies the Poles on their roller-coaster ride from dictatorship to democracy. He uncovers the motives for monetary union in Paris and Bonn. He walks in mass demonstrations in Belgrade and travels through the killing fields of Kosovo. Occasionally, he even becomes an actor in a drama he describes: debating Germany with Margaret Thatcher or the role of the intellectual with Vaclav Havel in Prague. Ranging from Vienna to Saint Petersburg, from Britain to Ruthenia, Garton Ash reflects on how "the single great conflict" of the cold war has been replaced by many smaller ones. And he asks what part the United States still has to play. Sometimes he takes an eagle's-eye view, considering the present attempt to unite Europe against the background of a thousand years of such efforts. But often he swoops to seize one telling human story: that of a wiry old farmer in Croatia, a newspaper editor in Warsaw, or a bitter, beautiful survivor from Sarajevo.
His eye is sharp and ironic but always compassionate. History of the Present continues the work that Garton Ash began with his trilogy of books about Central Europe in the 1980s, combining the crafts of journalism and history. In his Introduction, he argues that we should not wait until the archives are opened before starting to write the history of our own times. Then he shows how it can be done.
From the Hardcover edition.
About the Author
Timothy Garton Ash is the author of The File, In Europe's Name, and three volumes of "history of the present": The Polish Revolution (winner of the Somerset Maugham Award), The Uses of Adversity (for which he was awarded the Prix Europeen de l'Essai), and The Magic Lantern, his personal account of the revolutions of 1989, which has now appeared in fifteen languages. A Fellow of Saint Antony's College, Oxford, he lives in Oxford with his wife and two sons. From the Hardcover edition."
Praise For History of the Present…
"This is a kind of writing—it could be called the history of the present—for which it is not easy to find examples in earlier literature. . . . Garton Ash is, in the most literal sense of the term,
a contemporary historian. He writes primarily as a witness to the events he is treating, and not just as an outside witness but often as an inside one as well; for his own involvement in these events, emotional and intellectual, is of such intensity that he can speak, in a sense, from the inside as well as the outside.
Yet the sense of the historic dimension of the events in question is never lost. And the quality of the writing places it clearly in the category of good literature."
—George F. Kennan, on The Uses of Adversity