Rapture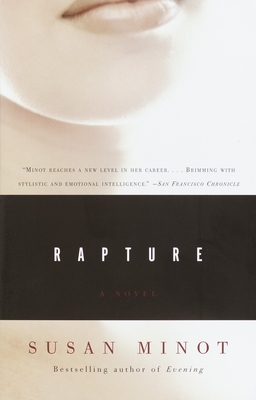 Rapture
Vintage, Paperback, 9780375727887, 132pp.
Publication Date: April 15, 2003
* Individual store prices may vary.
Shop Local
Enter your zip code below to find indies closest to you.
Description
The setting is a New York apartment where two long-estranged lovers try to resuscitate their passion. Kay is old enough to be skeptical about men-"this "man in particular-but still alert to the possibility of true love. Benjamin is a filmmaker with an appealing waywardness and a conveniently disappearing fiancee. As the two lie entwined in bed, Susan Minot ushers readers across an entire landscape of memory and sensation to reveal the infinite nuances of sex: its power to exalt and deceive, to connect two separate selves or make them fully aware of their solitude. Honest and unflinching, the result is a hypnotic reading experience.
About the Author
Susan Minot is an award-winning novelist, short-story writer, poet, and screenwriter. Her first novel, "Monkeys", was published in a dozen countries and won the Prix Femina Etranger in France. Her novel "Evening" was a worldwide bestseller and became a major motion picture. She received her MFA from Columbia University and lives with her daughter in New York City and on an island off the coast of Maine.
Praise For Rapture…
"Minot reaches a new level in her career. . . . Brimming with stylistic and emotional intelligence." –San Francisco Chronicle

"A disconcerting examination of love and war between the sexes." –The New Yorker

"Minot's story . . . is timeless, and she makes you feel its pure, raw ache. . . . Rapture is erotic, but more: it's romantic in the true sense of the word." –Miami Herald

"Explores a tragic irony of love and sex: how one partner can reach the heights of devotion at the very instant the other is dumped into the pits of despair." –Time Out New York

"Mesmerizing . . . provocative." –Harper's Bazaar

"In Minot's writing, one is often reminded of Henry James. Like James, she pursues the filaments of emotion that almost escape language. . . . Minot's writing [is] beautiful, evocative, and self-assured." –O, The Oprah Magazine

"A splendid piece of narrative sleight-of-hand . . . that further confirms Minot's place among our finest novelists." –Minneapolis Star Tribune

"I would challenge any reader to read this and not find moments of gut-wrenching truth, as if Minot had looked straight into each of our hearts." –The Providence Journal

"In language simultaneously rich and spare. . . . [Rapture] has a muscular swagger uncommon in fiction by women." –Vogue

"[Rapture offers] equally convincing portraits of the ways men and women think about love and sex." –Interview

"Minot takes an insightful, intelligent, humorous look at the tangled mess of modern love." –The Toronto Star

"[Minot] draws the reader in with subtle strokes of mood and atmosphere and with her ability to express so much in so few words." –The Oakland Press

"You get the sense that Minot has lived every moment, spoken every syllable, felt every emotion. The weird thing is: so have you." –The Baltimore City Paper