The Age of Innocence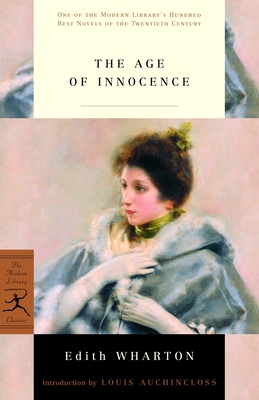 The Age of Innocence
Modern Library, Paperback, 9780375753206, 304pp.
Publication Date: March 2, 1999
* Individual store prices may vary.
Buy at Local Store
Enter your zip code below to purchase from an indie close to you.
or
Buy Here
Description
Selected by the Modern Library as one of the 100 best novels of all time
Newland Archer saw little to envy in the marriages of his friends, yet he prided himself that in May Welland he had found the companion of his needs--tender and impressionable, with equal purity of mind and manners. The engagement was announced discreetly, but all of New York society was soon privy to this most perfect match, a union of families and circumstances cemented by affection.
Enter Countess Olenska, a woman of quick wit sharpened by experience, not afraid to flout convention and determined to find freedom in divorce. Against his judgment, Newland is drawn to the socially ostracized Ellen Olenska, who opens his eyes and has the power to make him feel. He knows that in sweet-tempered May, he can expect stability and the steadying comfort of duty. But what new worlds could he discover with Ellen? Written with elegance and wry precision, Edith Wharton's Pulitzer Prize-winning masterpiece is a tragic love story and a powerful homily about the perils of a perfect marriage.
Commentary by William Lyon Phelps and E. M. Forster.
About the Author
Edith Wharton was a Pulitzer Prize-winning American novelist, known for such classics as The House of Mirth, Ethan Frome, and The Age of Innocence, for which she won the Pulitzer Prize in 1921. A member of the New York elite, Wharton drew on her experiences as part of society to critique its inner workings and the conflict between personal desires and societal norms. Wharton died in 1937, leaving behind a rich literary legacy.

Louis Auchincloss is a highly renowned novelist, literary critic, and historian. The author of more than 50 books, including "The Reactor of Justin", "The House of Five Talents", and "The Atonement", he is the former president of the American Academy of Arts and Letters. He lives in New York City.
Praise For The Age of Innocence…
"Is it--in this world--vulgar to ask for more? To entreat a little wildness, a dark place or two in the soul?"--Katherine Mansfield

"There is no woman in American literature as fascinating as the doomed Madame Olenska. . . . Traditionally, Henry James has always been placed slightly higher up the slope of Parnassus than Edith Wharton. But now that the prejudice against the female writer is on the wane, they look to be exactly what they are: giants, equals, the tutelary and benign gods of our American literature."--Gore Vidal

"Will writers ever recover that peculiar blend of security and alertness which characterizes Mrs. Wharton and her tradition?"--E. M. Forster