Complete Poems and Selected Letters of John Keats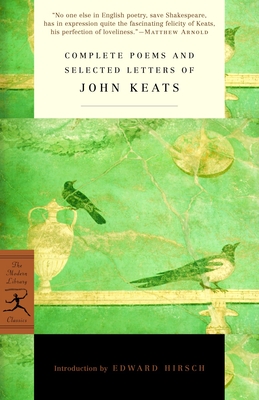 Complete Poems and Selected Letters of John Keats
Modern Library, Paperback, 9780375756696, 640pp.
Publication Date: February 13, 2001
* Individual store prices may vary.
Buy Now
or
Shop Local
Enter your zip code below to purchase from an indie close to you.
Description
'I think I shall be among the English Poets after my death, ' John Keats soberly prophesied in 1818 as he started writing the blankverse epic "Hyperion." Today he endures as the archetypal Romantic genius who explored the limits of the imagination and celebrated the pleasures of the senses but suffered a tragic early death. Edmund Wilson counted him as 'one of the half dozen greatest English writers, ' and T. S. Eliot has paid tribute to the Shakespearean quality of Keats's greatness. Indeed, his work has survived better than that of any of his contemporaries the devaluation of Romantic poetry that began early in this century. This Modern Library edition contains all of Keats's magnificent verse: 'Lamia, ' 'Isabella, ' and 'The Eve of St. Agnes'; his sonnets and odes; the allegorical romance "Endymion;" and the five-act poetic tragedy "Otho the Great." Presented as well are the famous posthumous and fugitive poems, including the fragmentary 'The Eve of Saint Mark' and the great 'La Belle Dame sans Merci, ' perhaps the most distinguished literary ballad in the language. 'No one else in English poetry, save Shakespeare, has in expression quite the fascinating felicity of Keats, his perception of loveliness, ' said Matthew Arnold. 'In the faculty of naturalistic interpretation, in what we call natural magic, he ranks with Shakespeare.'
About the Author
John Keats was born in 1795, the son of a livery-stable keeper. An orphan by the age of fourteen, he was apprenticed to a surgeon for a time, but gave up medicine for poetry. His luxuriant early work was famously savaged by the critics, but he remained assured in his conviction that he would eventually "be among the English poets," and his volume of 1820 was more favorably viewed. Keats's longed-for marriage to Fanny Brawne was prevented by the onset of the tuberculosis that killed him, at the age of twenty-six, in 1821.


Edward Hirsch is an American poet and critic who wrote national bestseller "How to Read a Poem and Fall in Love with Poetry". He has published nine books of poems, including "The Living Fire: New and Selected Poems", which brings together thirty-five years of work, and "Gabriel: A Poem", a book-length elegy for his son that "The New Yorker" calls a masterpiece of sorrow. He has also published five prose books about poetry. He is president of the John Simon Guggenheim Memorial Foundation in New York City.


Praise For Complete Poems and Selected Letters of John Keats…
"No one else in English poetry, save Shakespeare, has in expression quite the fascinating felicity of Keats, his perfection of loveliness."