Dracula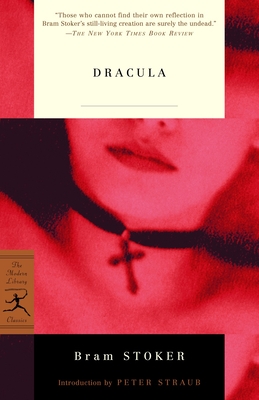 Dracula
Modern Library, Paperback, 9780375756702, 432pp.
Publication Date: March 13, 2001
* Individual store prices may vary.
Shop Local
Enter your zip code below to find indies closest to you.
Description
Of the many admiring reviews Bram Stoker's Dracula received when it first appeared in 1897, the most astute praise came from the author's mother, who wrote her son: 'It is splendid. No book since Mrs. Shelley's "Frankenstein" or indeed any other at all has come near yours in originality, or terror.'
A popular bestseller in Victorian England, Stoker's hypnotic tale of the bloodthirsty Count Dracula, whose nocturnal atrocities are symbolic of an evil ages old yet forever new, endures as the quintessential story of suspense and horror. The unbridled lusts and desires, the diabolical cravings that Stoker dramatized with such mythical force, render Dracula resonant and unsettling a century later.

About the Author
Abraham (Bram) Stoker was an Irish writer, best known for his Gothic classic Dracula, which continues to influence horror writers and fans more than 100 years after it was first published. Educated at Trinity College, Dublin, in science, mathematics, oratory, history, and composition, Stoker' s writing was greatly influenced by his father' s interest in theatre and his mother' s gruesome stories about her childhood during the cholera epidemic in 1832. Although a published author of the novels Dracula, The Lady of the Shroud, and The Lair of the White Worm, and his work as part of the literary staff of The London Daily Telegraph, Stoker made his living as the personal assistant of actor Henry Irving and the business manager of the Lyceum Theatre in London. Stoker died in 1912, leaving behind one of the most memorable horror characters ever created.

Peter Straub is the New York Times bestselling author of seventeen novels, which have been translated into more than twenty languages. His two collaborations with Stephen King, The Talisman and Black House, were international bestsellers. Two of Peter s most recent novels, Lost Boy Lost Girl and In the Night Room, were winners of the Bram Stoker award. In 2006, he was given the Horror Writers Association Lifetime Achievement Award. Peter and his wife live in New York City.
Praise For Dracula…
"Those who cannot find their own reflection in Bram Stoker's still-living creation are surely the undead."