Don Quixote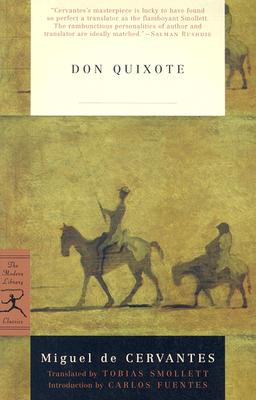 Don Quixote
The History and Adventures of the Renowned
Modern Library, Paperback, 9780375756993, 1168pp.
Publication Date: April 10, 2001
* Individual store prices may vary.
Buy Now
or
Shop Local
Enter your zip code below to purchase from an indie close to you.
Description
Widely regarded as the world's first modern novel, Don Quixote chronicles the famous picaresque adventures of the noble knight-errant Don Quixote de la Mancha and his faithful squire, Sancho Panza, as they wend their way across sixteenth-century Spain. Milan Kundera calls Cervantes the founder of the Modern Era and Lionel Trilling observes that it can be said that all prose fiction is a variation on the theme of Don Quixote.
This Modern Library Paperback Classics edition reproduces the acclaimed Tobias Smollett translation; as Salman Rushdie declares, To my mind, this is the only English rendering of the Quixote that reads like a great novel, a novel of immense daring, much wildness and many colours. It releases Don Quixote from the grey academic prison of many more recent translations, unleashing him upon the English language in all his brilliant, foolish glory . This edition also contains new endnotes.
About the Author
Miguel de Cervantes Saavedra (1547 -1616) Es considerado la maxima figura de la literatura espanola y universalmente conocido por haber escrito Don Quijote de la Mancha, que muchos criticos han descrito como la primera novela moderna y una de las mejores obras de la literatura universal. En 1605 publica la primera parte del Quijote, pero el exito dura poco. En sus ultimos anos publica las "Novelas ejemplares" (1613), el "Viaje del Parnaso" (1614), "Ocho comedias y ocho entremeses" (1615) y la segunda parte del Quijote (1615). El triunfo literario no lo libro de sus penurias economicas. Dedico sus ultimos meses de vida a "Los trabajos de Persiles y Segismunda" (de publicacion postuma, en 1617). Murio en Madrid el 23 de abril de 1616 y fue enterrado de caridad.

Tobias is the author of several books, inclu ding the Adventures of Roderick Random and the Adventures of Peregrine Pickle.

Carlos Fuentes (1928-2012) was one of the most influential and celebrated voices in Latin American literature. He was the author of 24 novels, including "Aura", "The Death of Artemio Cruz", "The Old Gringo" and "Terra Nostra", and also wrote numerous plays, short stories, and essays. He received the 1987 Cervantes Prize, the Spanish-speaking world's highest literary honor.
Fuentes was born in Panama City, the son of Mexican parents, and moved to Mexico as a teenager. He served as an ambassador to England and France, and taught at universities including Harvard, Princeton, Brown and Columbia. He died in Mexico City in 2012.
Praise For Don Quixote…
"Cervantes's masterpiece is lucky to have found so perfect a translator as the flamboyant Smollett. The rambunctious personalities of author and translator are ideally matched."