Persuasion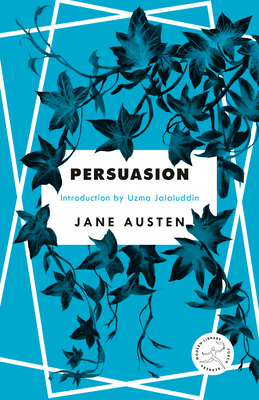 Persuasion
Modern Library, Paperback, 9780375757297, 224pp.
Publication Date: June 12, 2001
* Individual store prices may vary.
Buy at Local Store
Enter your zip code below to purchase from an indie close to you.
or
Buy Here
Description

Called a 'perfect novel' by Harold Bloom, "Persuasion" was written while Jane Austen was in failing health. She died soon after its completion, and it was published in an edition with Northanger Abbey in 1818.
In the novel, Anne Elliot, the heroine Austen called 'almost too good for me, ' has let herself be persuaded not to marry Frederick Wentworth, a fine and attractive man without means. Eight years later, Captain Wentworth returns from the Napoleonic Wars with a triumphant naval career behind him, a substantial fortune to his name, and an eagerness to wed. Austen explores the complexities of human relationships as they change over time. 'She is a prose Shakespeare, ' Thomas Macaulay wrote of Austen in 1842. 'She has given us a multitude of characters, all, in a certain sense, commonplace. Yet they are all as perfectly discriminated from each other as if they were the most eccentric of human beings.'
"Persuasion" is the last work of one of the greatest of novelists, the end of a quiet career pursued in anonymity in rural England that produced novels which continue to give pleasure to millions of readers throughout the world.
About the Author
One of England s most beloved authors, Jane Austen wrote such classic novels as Pride and Prejudice, Sense and Sensibility, Emma, and Northanger Abbey. Published anonymously during her life, Austen s work was renowned for its realism, humour, and commentary on English social rites and society at the time. Austen s writing was supported by her family, particularly by her brother, Henry, and sister, Cassandra, who is believed to have destroyed, at Austen s request, her personal correspondence after Austen s death in 1817. Austen s authorship was revealed by her nephew in A Memoir of Jane Austen, published in 1869, and the literary value of her work has since been recognized by scholars around the world.

Amy Bloom is the author of Away, a novel, and two collections of prize-winning stories: Come to Me and A Blind Man Can See How Much I Love You. She is a psychotherapist and teaches creative writing at Yale University, where she is a Fellow of Calhoun College.
Praise For Persuasion…
"Critics, especially [recently], value Persuasion highly, as the author's 'most deeply felt fiction,' 'the novel which in the end the experienced reader of Jane Austen puts at the head of the list.' . . . Anne wins back Wentworth and wins over the reader; we may, like him, end up thinking Anne's character 'perfection itself.'" –from the Introduction by Judith Terry