Rimbaud Complete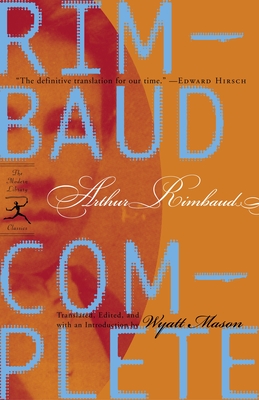 Rimbaud Complete
Modern Library, Paperback, 9780375757709, 656pp.
Publication Date: April 14, 2003
* Individual store prices may vary.
Buy at Local Store
Enter your zip code below to purchase from an indie close to you.
or
Buy Here
Description
Enduring icon of creativity, authenticity, and rebellion, and the subject of numerous new biographies, Arthur Rimbaud is one of the most repeatedly scrutinized literary figures of the last half-century. Yet almost thirty years have elapsed without a major new translation of his writings. Remedying this state of affairs is Rimbaud Complete," " the first and only truly complete edition of Rimbaud's work in English, translated, edited, and introduced by Wyatt Mason.
Mason draws on a century of Rimbaud scholarship to choreograph a superbly clear-eyed presentation of the poet's works. He arranges Rimbaud's writing chronologically, based on the latest manuscript evidence, so readers can experience the famously teenaged poet's rapid evolution, from the lyricism of "Sensation" to the groundbreaking early modernism of "A Season in Hell."
In fifty pages of previously untranslated material, including award-winning early verses, all the fragmentary poems, a fascinating early draft of A Season in Hell, a school notebook, and multiple manuscript versions of the important poem "O saisons, o chateaux," Rimbaud Complete displays facets of the poet unknown to American readers. And in his Introduction, Mason revisits the Rimbaud myth, addresses the state of disarray in which the poet left his work, and illuminates the intricacies of the translator's art.
Mason has harnessed the precision and power of the poet's rapidly changing voice: from the delicate music of a poem such as "Crows" to the mature dissonance of the "Illuminations," Rimbaud Complete unveils this essential poet for a new generation of readers.
About the Author
The poetic genius of Arthur Rimbaud (1854-1891) blossomed early and burned briefly. Nearly all of his work was composed when he was in his teens. During the century following his death at thirty-seven, Rimbaud's work and life have influenced generations of readers and writers. Radical in its day, Rimbaud's writing took some of the first and most fundamental steps toward the liberation of poetry from the formal constraints of its history, and now represents one of the most powerful and enduring bodies of poetic expression in human history.
Wyatt Mason has translated the works of various contemporary French writers, and has been a finalist for the French-American Foundation Translation Prize. His translation of Arthur Rimbaud's poetical and prose works, "Rimbaud Complete," appeared in 2002 from the Modern Library. His writing has appeared in "Harper's," "The Nation," and the "Los Angeles Times," He was named a fellow of the New York Public Library's Dorothy and Lewis B. Cullman Center for Scholars and Writers for 2003-2004. His current projects include a new translation of Dante's "La Vita Nuova," for the Modern Library. He is also at work on a translation of the essays of Michel de Montaigne.

Mason is a translator.

Mason is a translator.
Praise For Rimbaud Complete…
"The definitive translation for our time." —Edward Hirsch

"Wyatt Mason has located and tapped into Rimbaud's voice as it swings from gnarled to straight-ahead to mystic to raucous." —Roger Shattuck

"An important introduction of Rimbaud to another generation of readers." —Booklist

"The best opportunity thus far to experience Rimbaud as fully as possible in English. Here is Rimbaud uncensored: the savage maker, the scathing satirist, the rigorous Alchemist of the Word, the master of metrics and innovator of the prose poem, the figure who made himself absolutely modern, the poetic visionary whose work systematically disorders the senses and resonates with a strange beauty, an exultant splendor." —Edward Hirsch

"A welcome addition to the shelf of Rimbaud in English. Mason's tireless zeal and endless inventiveness compel unfailing admiration." —Arthur Goldhammer