Green Thoughts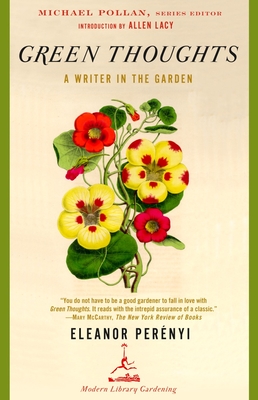 Green Thoughts
A Writer in the Garden
Modern Library, Paperback, 9780375759451, 320pp.
Publication Date: February 19, 2002
* Individual store prices may vary.
Buy at Local Store
Enter your zip code below to purchase from an indie close to you.
or
Not Currently Available for Direct Purchase
Description
A classic in the literature of the garden, "Green Thoughts" is a beautifully written and highly original collection of seventy-two essays, alphabetically arranged, on topics ranging from Annuals and Artichokes to Weeds and Wildflowers. An amateur gardener for over thirty years, Eleanor Perenyi draws upon her wide-ranging knowledge of gardening lore to create a delightful, witty blend of how-to advice, informed opinion, historical insight, and philosophical musing. There are entries in praise of earthworms and in protest of rock gardens, a treatise on the sexual politics of tending plants, and a paean to the salubrious effect of gardening (see Longevity ). Twenty years after its initial publication, "Green Thoughts" remains as much a joy to read as ever.
This Modern Library edition is published with a new Introduction by Allen Lacy, former gardening columnist for "The Wall Street Journal" and "The New York Times" and the author of numerous gardening books.
About the Author
Eleanor Perenyi was for many years the managing editor of "Mademoiselle," an editor at "Harper's Bazaar," and a contributor to "The Atlantic Monthly," "Harper's," and "Esquire" magazines. She is the author of a biography of Franz Liszt, which was nominated for a National Book Award, and "More Was Lost," a memoir of her marriage to a Hungarian baron. She lives on the Connecticut coast.
Michael Pollan is the author of the "New York Times" bestseller "The Botany of Desire" and "Second Nature," named one of the best gardening books of the twentieth century by the American Horticultural Society. He is a contributing editor to "Harper's" magazine and a contributing writer at "The New York Times Magazine." Pollan chose the books for the Modern Library Gardening series because, as he writes, "these writers are some of the great talkers in the rich, provocative, and frequently uproarious conversation that, metaphorically at least, has been taking place over the back fence of our gardens at least since the time of Pliny."

Sandor Ellix Katz is a self-taught fermentation experimentalist. He wrote Wild Fermentation: The Flavor, Nutrition, and Craft of Live-Culture Foods--which Newsweek called "the fermenting bible"--in order to share the fermentation wisdom he had learned, and demystify home fermentation. Since the book's publication in 2003, Katz has taught hundreds of fermentation workshops across North America and beyond, and authored The Art of Fermentation (2011) and the instructional DVD Fermentation Workshop with Sandor Ellix Katz (2010). A native of New York City, he now gardens, saves seeds, tends goats and chickens, and produces biodiesel from used fry oil in an off-the-grid community in the hills of Tennessee.

Allen Lacy, Professor of Philosophy Emeritus at the Richard Stockton College of New Jersey and formerly garden columnist for the "Wall Street Journal" and the "New York Times", now writes and publishes the gardening newsletter "Homeground". His many books include "The Garden in Autumn" and "The Inviting Garden".
Praise For Green Thoughts…
"You do not have to be a good gardener to fall in love with Green Thoughts. It reads with the intrepid assurance of a classic." —Mary McCarthy, The New York Review of Books

"Unlike any other gardening book I know, with its Old World charm, its down-to-earth practicality, its whimsy and sophistication." —Brooke Astor, The New York Times Book Review

"One of those dangerous reference works that you reach for at a moment of horticultural crisis or indecision only to find yourself an hour later browsing far beyond the page where you began." —The New Yorker