Dark Star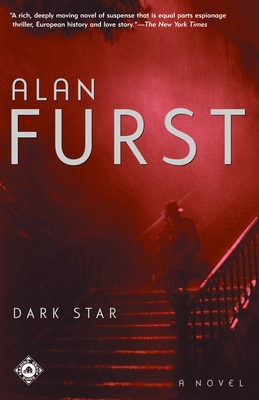 Dark Star
Random House Trade, Paperback, 9780375759994, 480pp.
Publication Date: July 9, 2002
* Individual store prices may vary.
Buy Now
or
Shop Local
Enter your zip code below to purchase from an indie close to you.
Description
Paris, Moscow, Berlin, and Prague, 1937. In the back alleys of nighttime Europe, war is already under way. André Szara, survivor of the Polish pogroms and the Russian civil wars and a foreign correspondent for Pravda, is co-opted by the NKVD, the Soviet secret intelligence service, and becomes a full-time spymaster in Paris. As deputy director of a Paris network, Szara finds his own star rising when he recruits an agent in Berlin who can supply crucial information. Dark Star captures not only the intrigue and danger of clandestine life but the day-to-day reality of what Soviet operatives call special work.
About the Author
Alan Furst is widely recognized as the master of the historical spy novel. He is the author of "Night Soldiers, Dark Star, The Polish Officer, The World at Night, Red Gold, Kingdom of Shadows, Blood of Victory", and "Dark Voyage". Born in New York, he has lived for long periods in France, especially Paris. He now lives on Long Island, New York. Visit the author's website at AlanFurst.net.
Praise For Dark Star…
Praise for Alan Furst and Dark Star
"A rich, deeply moving novel of suspense that is equal parts espionage thriller, European history and love story."
—The New York Times

"Compelling...An excellent novel of history, betrayal and, most important, survival...While the story offers enough twists and turns to satisfy the most ardent spy fan, author Alan Furst transcends genre. This is a novel with heart."
—San Francisco Chronicle

"This is a rich book, to be savored...for it is a work of an accomplished writer without obtrusively saying so on every other page. Furst has the instincts of the historian—he likes to get his sequences right, he tells a story straight, and he believes that setting matters—and the gifts of the storyteller."
—The Boston Globe


"The time-frame of the late 1930s on the Continent was once the special property of Eric Ambler and Graham Greene; Furst has ventured into their fictional territory and brought out a story that is equally original and engaging."
–Herbert Mitgang, The New York Times

"Dark Star is as fine an evocation of prewar Europe as anything I've ever read. An extremely well written and literate novel that practically creates a new genre: historical espionage."
–Nelson DeMille, author of The Gold Coast

"Outclasses any spy novel I have ever read."
–Richard Condon, author of The Manchurian Candidate

"Captures the murky allegiances and moral ambiguity of Europe on the brink of war. . . . Nothing can be like watching Casablanca for the first time. But Furst comes closer than anyone has in years."
–Walter Shapiro, Time

"[Dark Star] explores the ambiguous moral ground familiar to readers of Graham Greene, Robert Stone, and le Carré. . . . Terrific stuff–poignant, moving, provocative."
–Adam Woog, The Seattle Times

"Gripping . . . [Furst's] details of the period . . . give the book a forceful–and sometimes terrifying–reality."
–New York Newsday

"A page-churner of the best sort . . . Brilliant detail and sure sweep . . . Here is a thriller more deeply satisfying than much of the nonthrilling 'serious fiction' around today."
–Los Angeles Times Book Review

"One of the best spy novels I've read in years. . . . The novel is impeccably researched. It's as much historical fiction as it is spy fiction, and the atmosphere of danger and doom it creates by means of deftly employed historical details is matched only by the vividness of its mostly fictional characters. Dark Star doesn't merely evoke the period. Because of its engaging plot and appealing hero, it makes you live there, suffer there, and hope."
–Alan Cheuse, All Things Considered

"Kafka, Dostoyevsky, and le Carré sit up all night and talk to each other and this is what you get. It is absolutely wonderful."
–Kirkus Reviews

"Intelligent, provocative, and gripping . . . Beautifully and compellingly told."
–Publishers Weekly