Chesty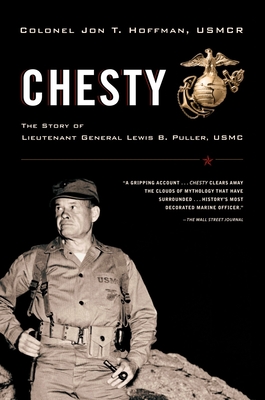 Chesty
The Story of Lieutenant General Lewis B. Puller, USMC
Random House Trade, Paperback, 9780375760440, 672pp.
Publication Date: August 13, 2002
* Individual store prices may vary.
Buy at Local Store
Enter your zip code below to purchase from an indie close to you.
or
Buy Here
Description
The Marine Corps is known for its heroes, and Lieutenant General Lewis B. Puller has long been considered the greatest of them all. His assignments and activities covered an extraordinary spectrum of warfare. Puller mastered small unit guerrilla warfare as a lieutenant in Haiti in the 1920s, and at the end of his career commanded a division in Korea. In between, he chased Sandino in Nicaragua and fought at Guadalcanal, Cape Gloucester, and Peleliu.

With his bulldog face, barrel chest (which earned him the nickname Chesty), gruff voice, and common touch, Puller became—and has remained—the epitome of the Marine combat officer. At times Puller's actions have been called into question—at Peleliu, for instance, where, against a heavily fortified position, he lost more than half of his regiment. And then there is the saga of his son, who followed in Chesty's footsteps as a Marine officer only to suffer horrible wounds in Vietnam (his book, Fortunate Son, won the Pulitzer Prize).

Jon Hoffman has been given special access to Puller's personal papers as well as his personnel record. The result will unquestionably stand as the last word about Chesty Puller.
About the Author
Major Jon T. Hoffman, USMCR, has spent more than 12 years on active duty as an infantry officer, an instructor at the Naval Academy, and a historian at Headquarters Marine Corps. Presently he is serving as a reserve field historian for the Marine Corps History and Museums Division. He has a master's degree in military history from Ohio State University and a law degree from Duke University. In 1994 Presidio Press published his biography of Major General Edson, Once A Legend, which won the Marine Corps Historical Foundation's Greene Award. He is the author of numerous articles in the Marine Corps Gazette, Naval Institute Proceedings, Naval History, Leatherneck, and Vermont History. His works have earned several writing prizes, including the Marine Corps Historical Foundation's Heinl Awards for 1992, 1993, and 1994.
Praise For Chesty…
"There are as many wild tales about Chesty Puller's battlefield exploits as there are Marines. Jon Hoffman, like a master prospector, has separated the fool's gold from the real nuggets in telling this glittering story of an ex- traordinary Leatherneck."
--Colonel Joseph H. Alexander, USMC (Ret.), author of
A Fellowship of Valor: The Battle History of the United States Marines

"Holder of an incredible five Navy Crosses, Marine Corps hero Lewis B. Puller deserves this definitive biography. Jon Hoffman, in his meticulously researched and written Chesty, gets past the legends and reveals the man."
--Brigadier General Edwin Howard Simmons, USMC (Ret.),director emeritus, Marine Corps History

Praise for Jon T. Hoffman's
Once a Legend: "Red Mike" Edson of the Marine Raiders:

"Jon Hoffman's biography catches the dark, driven nature of Edson's brilliant career. It is faithful to the man and his Marine Corps and will rank with the best books about American combat leaders. An outstanding achievement."
--Colonel Allan Millett, USMCR (Ret.), author of Semper Fidelis: The History of the United States Marine Corps

"'Red Mike' Edson, as brilliantly chronicled in this book, was . . . courageous and fearless–truly a legend."
--Lieutenant General Victor H. Krulak, USMC (Ret.)

"Jon Hoffman has captured the qualities and contributions of this exceptional thinker, fighter, and patriot. Once a Legend strips the veil from a remarkable career and gives us the man in true perspective."
--Colonel J. E. Greenwood, USMC (Ret.), former editor of the Marine Corps Gazette