Zigzagging Down a Wild Trail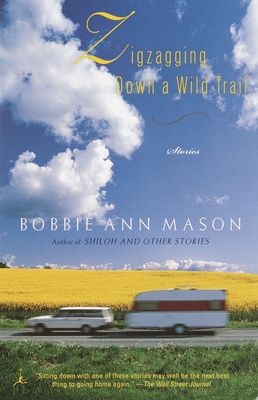 Zigzagging Down a Wild Trail
Stories
Modern Library, Paperback, 9780375760617, 224pp.
Publication Date: July 2, 2002
* Individual store prices may vary.
Buy Now
or
Shop Local
Enter your zip code below to purchase from an indie close to you.
Description
In this remarkable book, the author of Shiloh and Other Stories, In Country, and other award-winning books gives us powerful new stories that capture the restless energy of life in contemporary America. The characters here are travelers and seekers, feeling their way toward, or away from the defining moments of their lives. They roam out into the world to England, Alaska, Texas, Saudi Arabia, or ricochet back home to Kentucky, ceaselessly searching, exploring, testing for limits.
I felt strange, says Chrissy in "With Jazz," as though all my life I had been zigzagging down a wild trail to this particular place. In" Charger," a teenage boy races along the interstate, seeking the father who abandoned him years before. In "Rolling into Atlanta," a young woman searches for the kind of authenticity she remembers from her rural childhood. In "Proper Gypsies," Nancy deals with the shock of being robbed in London. In "The Funeral Side," Sandra comes home to try to fulfill her responsibilities to her family, but yearns to escape again to Alaska and the northern lights that haunt her. Writing in the spare, precise, beautifully nuanced language for which she is famous, Bobbie Ann Mason expands her art here in dramatic and illuminating fashion.
These fascinating stories bring to life surprising individuals whose journeys shine a bright light on life as it is lived by many Americans today. Zigzagging Down a Wild Trail is a beautiful book by one of America's finest writers, a book full of drama, humor, and startling insights into the timeless longings of the human heart.
"From the Hardcover edition.
About the Author
Bobbie Ann Mason's first short stories were published in The New Yorker, and were then included in her first book of fiction, Shiloh & Other Stories (1982). The collection won the PEN/ Hemingway Award and was nominated for the American Book Award, the PEN/ Faulkner Award, and the National Book Critics Circle Award. She received a Guggenheim Fellowship and a grant from the National Endowment for the Arts, and she received an Award for Literature from the American Academy of Arts and Letters. Her first novel, In Country (2001), is taught widely in classes and was made into a film starring Bruce Willis and Emily Lloyd. Both Feather Crowns (1994) and Zigzagging Down a Wild Trail (2001) won the Southern Book Critics Circle Award. Her memoir, Clear Springs: A Family History (2000), was a finalist for the Pulitzer Prize. Mason belongs to the Authors Guild, PEN, and the Fellowship of Southern Writers. She is former writer-in-residence at the University of Kentucky. Her most recent book, The Girl in the Blue Beret, was released in 2011.
Praise For Zigzagging Down a Wild Trail…
"Mason is a full-fledged master of the short story."
--Anne Tyler, about Shiloh and Other Stories

"Count on it...Bobbie Ann Mason is going to be renowned as one of America's finest writers. Clear Springs, her recent memoir, was a deserving Pulitzer finalist, but perhaps she shines most in crafting short stories."
--Jeff Guinn, Fort Worth Star-Telegram

"Bobbie Ann Mason's genius only grows stronger and wiser and funnier with every new book, and Zigzagging Down a Wild Trail is my absolute favorite so far. What an ear she has for the telling phrase, what an eye for the heartbreaking detail. These new stories are stunning."
--Josephine Humphreys

"I love the way Bobbie Ann Mason writes, the way she brings her people to life in so few words. I've been a fan since Shiloh.
--Elmore Leonard


"In the dictionary under "story", it should just say, "See Bobbie Ann Mason." I will follow her down any trail she blazes."
--Roy Blount, Jr.


"No writer in America can match Bobbie Ann Mason at chronicling the dizzying changes in our culture. We find each of her varied and interesting characters zigzagging down the wild and surprising trail of their lives to arrive at a vivid moment of clarity, a moment that pierces the heart. These are stories to savor."
--Lee Smith