Anatomy Coloring Workbook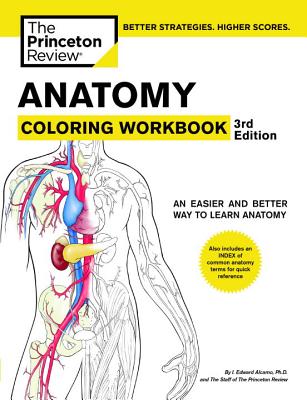 Anatomy Coloring Workbook
Princeton Review, Paperback, 9780375762895, 307pp.
Publication Date: July 3, 2012
* Individual store prices may vary.
Buy Now
or
Shop Local
Enter your zip code below to purchase from an indie close to you.
Description
An Easier and Better Way to Learn Anatomy. The human body is wondrously complex, with 700 muscles, 206 bones, and countless cells and tissues ... but studying and remembering all of them can be overwhelming Instead of rote memorization, the Anatomy Coloring Workbook, 3rd Edition helps you take an interactive approach to learning anatomy through coloring. Not only can this take less time than memorizing from textbooks and flashcards, but the process thoroughly fixes anatomical concepts in your mind for easier visual recall later. The Anatomy Coloring Workbook includes: 126 coloring plates, each with one or more easy-to-follow diagrams showing sharp, precise renderings of anatomical structures Full-length explanations of the pictured structures and anatomical concepts to accompany each coloring lesson An introductory section on terminology to get you started and coloring suggestions to assist you A glossary of common anatomical terms for quick reference The 126 plates in the book are organized into the following sections: Introduction to Anatomy & the Ingumentary System (6 plates) The Skeletal System (19 plates) The Muscular System (19 plates) The Nervous System (26 plates) The Endocrine System (7 plates) The Circulatory System (17 plates) The Lymphatic System (5 plates) The Digestive System (9 plates) The Respiratory System (5 plates) The Urinary System (4 plates) The Reproductive System (9 plates) An invaluable resource for students of anatomy, physiology, biology, psychology, nursing, medical technology, health administration, fitness education, nutrition, art, and others, the Anatomy Coloring Workbook will help make your studies a cinch.
About the Author
I. Edward Alcamo (Farmingdale, NY) is a professor of biology at the State University of New York at Farmingdale. He has taught at the college level for 30-plus years, specializing in microbiology for health science students. Dr. Alcamo has authored several books including "Fundamentals of Microbiology", "AIDS: The Biological Basis", "The Microbiology Coloring Book", "DNA Technology: The Awesome Skill", "Anatomy and Physiology the Easy Way", and "The Anatomy Coloring Workbook". He has also been honored for excellence in teaching by the State University of New York and the National Association of Biology Teachers. Dr. Alcamo is a member of numerous scientific organizations and a regular contributor to various scientific journals.
Jennifer Warner (Charlotte, NC) is an instructor of biology at the University of North Carolina, Greensboro. She is a coauthor of "McGraw-Hill's MCAT" and "McGraw-Hill's PCAT".