The Amber Spyglass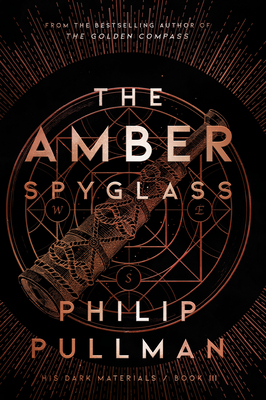 The Amber Spyglass
Alfred A. Knopf Books for Young Readers, Paperback, 9780375823350, 544pp.
Publication Date: September 10, 2002
* Individual store prices may vary.
Buy Now
or
Shop Local
Enter your zip code below to purchase from an indie close to you.
Description
The most magnificent fantasy series since "The Lord of the Rings." "The Oregonian"
Throughout the worlds, the forces of both heaven and hell are mustering to take part in Lord Asriel's audacious rebellion. Each player in this epic drama has a role to play--and a sacrifice to make. Witches, angels, spies, assassins, tempters, and pretenders, no one will remain unscathed.
Lyra and Will have the most dangerous task of all. They must journey to a gray-lit world where no living soul has ever gone and from which there is no escape.
As war rages and Dust drains from the sky, the fate of the living--and the dead--to depend on Lyra and Will.
A "New York Times" Bestseller
A "Newsweek" Top 100 Book of All Time
An "Entertainment Weekly" All-Time Greatest Novel
Winner of the Whitbread (now Costa) Book of the Year Award.
Winner of the British Book Award (Children's)
"Pullman has created the last great fantasy masterpiece of the twentieth century. An astounding achievement." --"The Cincinnati Enquirer"
"Breathtaking adventure . . . a terrific story, eloquently told." --"The Boston Globe"
"War, politics, magic, science, individual lives and cosmic destinies are all here . . . shaped and assembled into a narrative of tremendous pace by a man with a generous, precise intelligence. I am completely enchanted." --"The New York Times Book Review"
"Masterful. . . . This title confirms Pullman's inclusion in the company of C. S. Lewis and Tolkien." --"Smithsonian Magazine"
"From the Hardcover edition.
About the Author
Philip Pullman was born in Norwich, England, in 1946. He has won many awards, including the Carnegie Medal and the Whitbread Book of the Year Award. His acclaimed trilogy, His Dark Materials, has been published in thirty-nine languages. . The Amber Spyglass, the trilogy s astonishing finale, was the first children s book in history to win the Whitbread Book of the Year Award. It was also nominated for the Booker Prize. When he is not writing books, Pullman enjoys drawing, woodworking, and playing the piano. He lives with his family in Oxford, England.
Praise For The Amber Spyglass…
"Absorbing . . Like Harry Potter creator J. K. Rowling, [Pullman] invents a world filled with strange divinations and wordplays."
–Newsweek

"A LITERARY MASTERPIECE . . . [that] caps the most magnificent fantasy series since The Lord of the Rings and puts Harry Potter to shame. . . . A page-turning story that builds to a powerful finish."
–Oregonian

"IMPOSSIBLE TO PUT DOWN, SO FIRMLY AND RELENTLESSLY DOES PULLMAN DRAW YOU INTO HIS TALE . . . [A] gripping saga pitting the magnetic young Lyra Belacqua and her friend Will Parry against the forces of both Heaven and Hell."
–Pittsburgh Post-Gazette



From the Paperback edition.