Bloodhound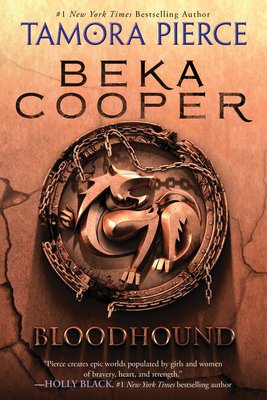 Bloodhound
Random House Books for Young Readers, Paperback, 9780375838170, 549pp.
Publication Date: May 25, 2010
* Individual store prices may vary.
Buy Now
or
Shop Local
Enter your zip code below to purchase from an indie close to you.
Description
Beka Cooper, the heroine of "Terrier," is no longer a Puppy.
She's a Dog now a full-fledged member of the Provost's Guard, dedicated to keeping peace in Tortall. But there's unrest throughout land. Counterfeit coins are turning up in shops all over the capital city of Corus, and the nation's economy is on the brink of collapse.
The Dogs discover that the counterfeit money seems to originate in Port Caynn. So Beka heads upriver to investigate, traveling with her mentor, Goodwin; Achoo, a hound whose nose is as sharp as her claws; and the pigeon Slapper, who carries the voices of the dead.
In Port Caynn, Beka delves deep into the gambling world, where she meets a charming banking clerk named Dale Rowan. Beka thinks she may be falling for Rowan, but she won't let anything or anyone jeopardize her mission. From the Silversmith's Guild to the Provost's House to the city sewers, it won't be enough for Beka to be her usual Terrier self. She'll have to learn from Achoo how to sniff out the criminals to be a Bloodhound. . . .
About the Author
Beloved author Tamora Pierce has written a great number of books, including The Song of the Lioness quartet, The Immortals quartet, The Circle of Magic quartet, The Protector of the Small quartet, The Circle Opens quartet, the Trickster series, "The Will of" "the Empress", "Melting Stones", and the Beka Cooper series. She lives in New York and can be visited at TamoraPierce.com.