New York's Bravest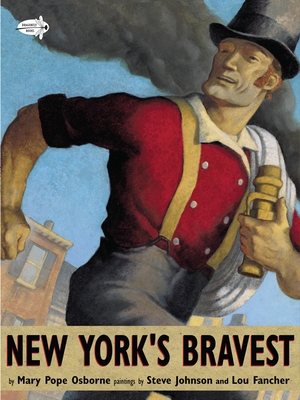 New York's Bravest
Dragonfly Books, Paperback, 9780375838415, 32pp.
Publication Date: August 22, 2006
* Individual store prices may vary.
Buy Now
or
Shop Local
Enter your zip code below to purchase from an indie close to you.
Description
In the 1840s, there was a real vounteer firefighter named Mose Humphreys whose bravery was reknown throughout New York City. Plays about him began being performed on Broadway in 1848 and over the years his strength and heroics took on larger-than-life proportions, much like those of Paul Bunyan. Mary Pope Osborne has honed down the legends about him to a brief, dramatic, sometimes comical, but ultimately moving text of picture book length. Steve Johnson and Lou Fancher's stunning paintings capture this 8-foot-tall superhero rushing into burning buildings, saving babies and bankers, and wolfing down the feasts bestowed upon him by the grateful citizens of old New York until the one big hotel fire after which he was never seen again. The author has included a historical note about the origins of this tall tale, and the book is dedicated to the 343 New York City firefighters who gave their lives to save others on September 11, 2001.
Mary Pope Osborne included a longer, different version of this legend in her distinguished collection "American Tall Tales.
About the Author
Mary Pope Osborne is the author of the bestselling Magic Tree House series. She has also written many acclaimed retellings of myths, folktales, and works of historical fiction.

MICHAEL ST. LAWRENCE & STEVE JOHNSON are partners and cofounders of Outsell, a sales training and consulting business. Before they founded the business, St. Lawrence was vice president of product development and national accounts at Dale Carnegie. Steve Johnson was in the sales training field for 10 years and also worked at Dale Carnegie. Their clients include Merrill Lynch, Pacific Bell, Blue Cross, Dean Witter, The Trane Company, and The Money Store.

Steve Johnson and Lou Fancher are an illustration team with more than forty picture books in print. Their work has garnered rave reviews and won awards. Their books include My Many Colored Days, Bebop Express, I Walk at Night, New York's Bravest, The Velveteen Rabbit, and The Salamander Room. They were also concept artists for Pixar's Toy Story and A Bug's Life. They live in California with their son.