The Great and Only Barnum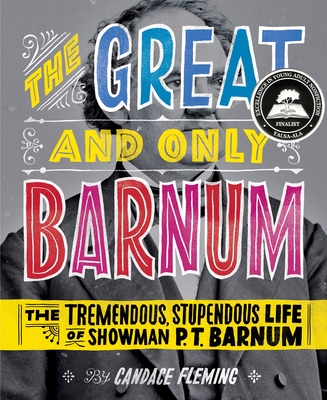 The Great and Only Barnum
The Tremendous, Stupendous Life of Showman P. T. Barnum
Schwartz & Wade Books, Hardcover, 9780375841972, 160pp.
Publication Date: September 8, 2009
* Individual store prices may vary.
Buy at Local Store
Enter your zip code below to purchase from an indie close to you.
or
Buy Here
Description
"Step right up Meet the astounding . . . the amazing . . . P. T. Barnum
"The award-winning author of "The Lincolns: A Scrapbook Look at Abraham and Mary," "Amelia Lost," and "Our Eleanor "brings us the larger-than-life biography of showman P. T. Barnum. Known far and wide for his jumbo elephants, midgets, and three-ring circuses, here's a complete and captivating look at the man behind the Greatest Show on Earth. Readers can visit Barnum's American Museum; meet Tom Thumb, the miniature man (only 39 inches tall) and his tinier bride (32 inches); experience the thrill Barnum must have felt when, at age 60, he joined the circus; and discover Barnum's legacy to the 19th century and beyond. Drawing on old circus posters, photographs, etchings, ticket stubs and with incredible decorative art by Ray Fenwick this book presents history as it's never been experienced before a show-stopping event
About the Author
I have always been a storyteller. Even before I could write my name, I could tell a good tale. And I told them all the time. As a preschooler, I told my neighbors all about my three-legged cat named Spot. In kindergarten, I told my classmates about the ghost that lived in my attic. And in first grade, I told my teacher, Miss Harbart, all about my family s trip to Paris, France.
I told such a good story that people always thought I was telling the truth. But I wasn t. I didn t have a three-legged cat or a ghost in my attic, and I d certainly never been to Paris, France. I simply enjoyed telling a good story . . . and seeing my listener s reaction.
Sure, some people might have said I was a seven-year-old fibber. But not my parents. Instead of calling my stories "fibs" they called them "imaginative." They encouraged me to put my stories down on paper. I did. And amazingly, once I began writing, I couldn t stop. I filled notebook after notebook with stories, poems, plays. I still have many of those notebooks. They re precious to me because they are a record of my writing life from elementary school on.
In second grade, I discovered a passion for language. I can still remember the day my teacher, Ms. Johnson, held up a horn-shaped basket filled with papier-mache pumpkins and asked the class to repeat the word "cornucopia." I said it again and again. I tasted the word on my lips. I tested it on my ears. That afternoon, I skipped all the way home from school chanting "Cornucopia! Cornucopia!" From then on, I really began listening to words -- to the sounds they made, and the way they were used, and how they made me feel. I longed to put them together in ways that were beautiful and yet told a story.
As I grew, I continued to write stories. But I never really thought of becoming an author. Instead, I went to college, where I discovered yet another passion -- history. I didn t realize it then, but studying history was really just an extension of my love of stories. After all, some of the best stories are true ones -- tales of heroism and villainy made more incredible by the fact they really happened.
After graduation, I got married and had children. I read to them a lot, and that s when I discovered the joy and music of children s books. I simply couldn t get enough of them. With my two sons in tow, I made endless trips to the library. I read stacks of books. I found myself begging, "Just one more, pleeeease!" while my boys begged for lights-out and sleep. Then it struck me. Why not write children s books? It seemed the perfect way to combine all the things I loved -- stories, musical language, history, and reading. I couldn t wait to get started.
But writing children s books is harder than it sounds. For three years, I wrote story after story. I sent them to publisher after publisher. And I received rejection letter after rejection letter. Still, I didn t give up. I kept trying until finally one of my stories was pulled from the slush pile and turned into a book. My career as a children s author had begun.
Candace Fleming lives in Mount Prospect, Illinois.
Ray Fenwick is an artist, illustrator and typographic thing-maker living in Halifax, Nova Scotia, Canada. A former improv comedian and theater school dropout, Ray now occupies himself making drawings, comics and patterns for people like Blue Q, CMT, If'n Books, Nickelodeon, Urban Outfitters, and others. He regularly appears in Fantagraphics' flagship anthology, MOME.
Praise For The Great and Only Barnum…
New York Times Book Review, December 6, 2009: "Lively… an engrossing portrait…honest and fun"

Starred Review, Booklist, June 1, 2009:
"The material is inherently juicy, but credit Fleming's vivacious prose, bountiful period illustrations, and copious source notes for fashioning a full picture of one of the forbearers of modern celebrity."

Starred Review, Kirkus Reviews, August 15, 2009:
"As revealing as it is entertaining."

The Bulletin of the Center for Children's Books, October 2009: "the extensive gallery of period photos, engravings, and advertising bills, are worth the price of admission, and bibliography, source notes, index, and web resources will assist students in turning a rousing good read into an entertaining school report."

Publishers Weekly, August 31, 2009: "Audiences will step right up to this illuminating and thorough portrait of an entertainment legend"

School Library Journal, September 2009: "An outstanding choice for all middle level and secondary collections."

Instructor, November/December 2009: "You'll want to invite readers to step right up to this three-ring circus of a biography, which not only tells the story of P.T. Barnum, but also the circus culture he helped create and his impact and modern entertainment."