When You Reach Me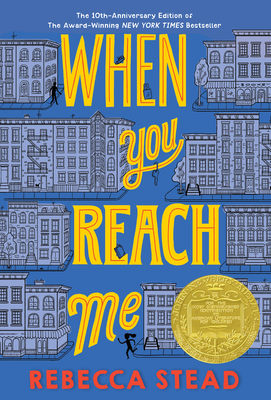 When You Reach Me
Yearling Books, Paperback, 9780375850868, 199pp.
Publication Date: December 28, 2010
* Individual store prices may vary.
Buy at Local Store
Enter your zip code below to purchase from an indie close to you.
or
Buy Here
Description
This remarkable novel holds a fantastic puzzle at its heart.
By sixth grade, Miranda and her best friend, Sal, know how to navigate their New York City neighborhood. They know where it's safe to go, and they know who to avoid. Like the crazy guy on the corner.
But things start to unravel. Sal gets punched by a kid on the street for what seems like no reason, and he shuts Miranda out of his life. The apartment key that Miranda's mom keeps hidden for emergencies is stolen. And then a mysterious note arrives, scrawled on a tiny slip of paper. The notes keep coming, and Miranda slowly realizes that whoever is leaving them knows things no one should know. Each message brings her closer to believing that only she can prevent a tragic death. Until the final note makes her think she's too late.
About the Author
Rebecca Stead is the Newbery Award Winning author of When You Reach Me and First Light. She lives in Manhattan with her husband and two children.
Praise For When You Reach Me…
Starred Review, Kirkus Reviews, June 1, 2009:
"[W]hen all the sidewalk characters from Miranda's Manhattan world converge amid mind-blowing revelations and cunning details, teen readers will circle back to the beginning and say,'Wow ... cool.'"

Starred Review, Booklist, June 1, 2009:
"[T]he mental gymnastics required of readers are invigorating; and the characters, children, and adults are honest bits of humanity no matter in what place or time their souls rest."

Starred Review, The Horn Book Magazine, July & August, 2009:
"Closing revelations are startling and satisfying but quietly made, their reverberations giving plenty of impetus for the reader to go back to the beginning and catch what was missed."

Starred Review, School Library Journal, July 2009:
"This unusual, thought-provoking mystery will appeal to several types of readers."

Starred Review, Publishers Weekly, June 22, 2009:
"It's easy to imagine readers studying Miranda's story as many times as she's read L'Engle's, and spending hours pondering the provocative questions it raises."

Review, People Magazine, July 13, 2009:
"Absorbing."

Review, The Wall Street Journal, July 17, 2009:
"Readers ... are likely to find themselves chewing over the details of this superb and intricate tale long afterward."

Review, The Washington Post Book World, July 15, 2009:
"Incandescent."

Review, The New York Times Book Review, August 16, 2009:
"Smart and mesmerizing."