Notes from the Dog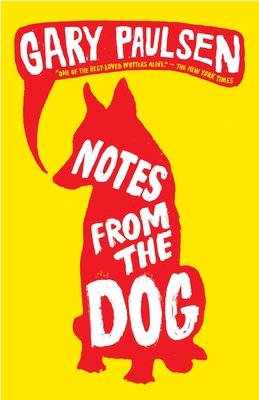 Notes from the Dog
Wendy Lamb Books, Paperback, 9780375855429, 133pp.
Publication Date: January 25, 2011
* Individual store prices may vary.
Shop Local
Enter your zip code below to find indies closest to you.
Description
"Sometimes having company is not all it's cracked up to be." 
Fifteen-year-old Finn is a loner, living with his dad and his amazing dog, Dylan. This summer he's hoping for a job where he doesn't have to talk to anyone except his pal Matthew. Then Johanna moves in next door. She's ten years older, cool, funny, and she treats Finn as an equal. Dylan loves her, too. Johanna's dealing with breast cancer, and Matthew and Finn learn to care for her, emotionally, and physically. When she hires Finn to create a garden, his gardening ideas backfire comically. But Johanna and the garden help Finn discover his talents for connecting with people.
About the Author
Gary Paulsen is the distinguished author of many critically acclaimed books for young people, including three Newbery Honor Books: The Winter Room, Hatchet, and Dogsong. He won the Margaret A. Edwards Award given by the ALA for his lifetime achievement in young adult literature. Among his Random House books are Road Trip (written with his son, Jim Paulsen); Vote; Crush; Flat Broke; Liar, Liar; Paintings from the Cave; Woods Runner; Masters of Disaster; Lawn Boy; Lawn Boy Returns; Notes from the Dog; Mudshark; The Legend of Bass Reeves; The Amazing Life of Birds; Molly McGinty Has a Really Good Day; How Angel Peterson Got His Name; Guts: The True Stories Behind Hatchet and the Brian Books; The Beet Fields; Soldier s Heart; Brian s Return, Brian s Winter, and Brian s Hunt (companions to Hatchet); Father Water, Mother Woods; and five books about Francis Tucket s adventures in the Old West. Gary Paulsen has also published fiction and nonfiction for adults. He divides his time between his home in Alaska, his ranch in New Mexico, and his sailboat on the Pacific Ocean. You can visit him on the Web at GaryPaulsen.com.