The Annotated Phantom Tollbooth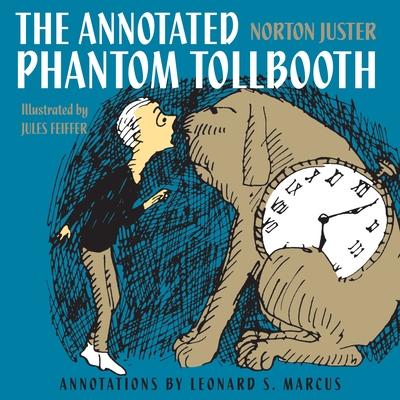 The Annotated Phantom Tollbooth
Alfred A. Knopf Books for Young Readers, Hardcover, 9780375857157, 284pp.
Publication Date: October 25, 2011
* Individual store prices may vary.
Buy Now
or
Shop Local
Enter your zip code below to purchase from an indie close to you.
Description
The Phantom Tollbooth is a universally beloved childhood classic. In the 50 years since its original publication, millions of children have breathlessly followed Milo's adventures in the Lands Beyond.

Now Leonard Marcus, a nationally acclaimed writer on children's literature, has created a richly annotated edition of this perennial favorite. Marcus's expansive annotations include interviews with the author and illustrator, illuminating excerpts from Juster's notes and drafts, cultural and literary commentary, and Marcus's own insights on the book. The Annotated Phantom Tollbooth also includes an introduction that shares the fascinating background on the book's publication—Juster and Feiffer met as young neighbors in Brooklyn, New York, and thus began a fortuitious collaboration on a project that would become an instant classic—as well as its enduring place in the world of children's literature.

The Annotated Phantom Tollbooth is the perfect way to honor a classic and will be welcomed by young readers and fans of all ages.
About the Author
Norton Juster is a practicing architect and professor of environmental design at Hampshire College. He is the author of a number of books, including The Phantom Tollbooth, The Dot and the Line and Alberic the Wise. He lives with his wife in a small rural community in western Massachusetts.

Jules Feiffer is a cartoonist, playwright, children s book author and illustrator, and member of the American Academy of Arts and Letters. He teaches a humor writing class at Stony Brook Southampton College. He lives in East Hampton, New York, where he is completing the Kill My Mother trilogy.

Leonard S. Marcus is one of the world s leading writers about children s books and the people who create them. His own award-winning books include "Randolph Caldecott: The Man Who Could Not Stop Drawing; Listening for Madeleine: A Portrait of Madeleine L'Engle in Many Voices; Dear Genius: The Letters of Ursula Nordstrom; Minders of Make Believe; "and "The Annotated Phantom Tollbooth." He lives in Brooklyn, New York.