The New Kid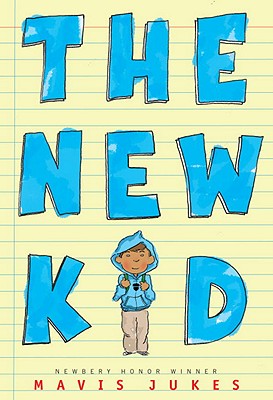 The New Kid
Alfred A. Knopf Books for Young Readers, Hardcover, 9780375858796, 277pp.
Publication Date: December 13, 2011
* Individual store prices may vary.
Buy at Local Store
Enter your zip code below to purchase from an indie close to you.
or
Not Currently Available for Direct Purchase
Description
Newbery Honor Award—winning author Mavis Jukes is back with a lovable new character named Carson. His father moves him to a new town in Northern California, where he'll be the new kid in class—friendless and alone, except for his beloved stuffed moose (named Moose, of course). As Carson settles into his new surroundings, a series of delightful mishaps start to occur: the class pet, a rat named Mr. Nibblenose, gets lost to surprising results; the culprit of a mysterious lunch theft might actually be something that's not human at all; and when his beloved Moose goes missing, Carson makes his first new non-stuffed animal friend. Told with childlike charm and wit, The New Kid is perfect for newly independent readers.
About the Author
I grew up in New City, New York, and Princeton, New Jersey. I loved everything to do with the West: especially saddles, old horseshoes, and boots with inlaid roses on the sides. I have been a cowboy ever since I was a little kid and I'm not talking fringy skirt. I'm talking woolly chaps and huge palomino horse that rears up on its hind legs, snorts, whinnies, and gallops across the plains in a thunderstorm when I'm out there chasing bad guys. However, in my actual real life, I moved out West when I was eighteen but didn't buy a horse. I have to admit it: I've never had the cattle, only the hat. Total livestock count: one sheep. I studied sculpture, education, and law. I've been an elementary school teacher and thanks to Frances Foster a children's writer. Frances started me off writing children's books, and I will be forever in her debt for that.
I have lived on a small ranch in northern California for 32 years. I have two great stepsons and two great daughters. For the past two years, I have been writing lyrics for country songs, fulfilling the not-so-secret dream I've had ever since my book "No One is Going to Nashville "was published in 1983. Now that my kids are grown, I spend all of my spare time out on the high desert plains under the big skies with my husband, Bob, where we drive out on lonesome, two-rut roads to hunt for rocks, twisted wire, and rusty, shot-up buckets and cans. And to rustle up ideas and images: for books, songs, and artwork. Bob is a sculptor who incorporates found objects in his work. I am his biggest fan, lifelong companion, and partner in the hunt. He's an art cowboy who wears J.B. Hill boots with stars on the tops and a Stetson with a bent brim. I've been getting a lot of ideas and inspiration from Bob, beginning with "No One is Going to Nashville "and "Like Jake and Me "and continuing right on up through "Smoke". So, thanks, Bob!