Toys Come Home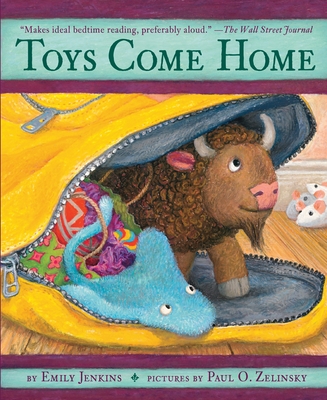 Toys Come Home
Being the Early Experiences of an Intelligent Stingray, a Brave Buffalo, and a Brand-New Someone Called Plastic
Schwartz & Wade Books, Hardcover, 9780375862007, 132pp.
Publication Date: September 13, 2011
* Individual store prices may vary.
Buy Now
or
Shop Local
Enter your zip code below to purchase from an indie close to you.
Description
Here is the third book in the highly acclaimed Toys Trilogy, which includes the companion books ""Toys Go Out and "Toy Dance Party."
Fans of the series, as well as newcomers, will happily discover how Lumphy, StingRay, and Plastic came to live with the Girl. In six linked adventures, readers will also learn how the one-eared Sheep became one-eared; watch a cranky toy meet an unfortunate end; and best of all, learn why it's okay for someone you truly love to puke on you. Here is perhaps the most charming of three inimitably charming books destined to become classics.
"A timeless story of adventure and friendship to treasure aloud or independently." " Booklist," Starred.
About the Author
Emily Jenkins is the author of two previous books about Hank and Inkling. She also wrote the chapter books Toys Go Out, Toy Dance Party, and Toys Come Home, plus a lot of picture books, including Lemonade in Winter, That New Animal, and Skunkdog. She bakes excellent pumpkin bread and, when swimming, wears a purple swim cap and blue goggles.

In a career spanning four decades, award-winning author Diana Wynne Jones (1934-2011) wrote more than forty books of fantasy for young readers. Characterized by magic, multiple universes, witches and wizards--and a charismatic nine-lived enchanter--her books were filled with unlimited imagination, dazzling plots, and an effervescent sense of humor that earned her legendary status in the world of fantasy. In addition to being translated into more than twenty languages, her books have earned a wide array of honors--including two "Boston Globe-Horn Book" Award Honors and the "Guardian" Award--and appeared on countless best-of-the-year lists. Her best-selling Howl's "Moving Castle" was made into an animated film by Japanese director Hayao Miyazaki and was nominated for an Academy Award. Diana Wynne Jones was also honored with many prestigious awards for the body of her work. She was given the British Fantasy Society's Karl Edward Wagner Award in 1999 for having made a significant impact on fantasy, and she won the Lifetime Achievement Award at the World Fantasy Convention in 2007.
Praise For Toys Come Home…
Starred Review, Kirkus Reviews, July 15, 2011:
"Life's brutal realities are spotlighted with a gleaming authenticity...Character-driven episodes unfold in six fully realized chapters; Zelinsky's softly shaded pencil drawings showcase pivotal moments, revealing each individual idiosyncrasy...during this eventful year...This enjoyable trio deserves its rightful place away from the confines of any toy chest."

Starred Review, Booklist, September 15, 2011:
"The empathetic characters, gentle drama, and occasional, full-page, black-and-white drawings create a timeless story of adventure and friendship to treasure aloud or independently. Wholly satisfying, this may well leave readers expecting to see the Velveteen Rabbit peeking in the bedroom window and smiling approvingly."